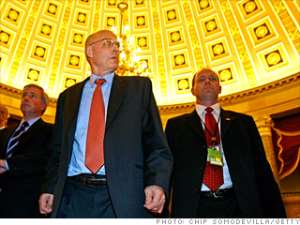 The Senate has approved a new version of a $700bn (£380bn) rescue plan for the troubled US financial system.
Senators voted 74 to 25 in favour of the emergency legislation designed to stabilise volatile markets and limit further damage to the economy.
It includes tax breaks for families and businesses, among other measures designed to win over sceptics.
The plan will now go before the House of Representatives, which narrowly rejected a similar bill on Monday.
President George W Bush praised Senate leaders for making "vital improvements to the rescue package" and urged the House to approve the measures.
News of the Senate vote had little effect on the Asian markets - Japan's Nikkei index was down by 1.11% at noon and Australian stocks fell slightly after the vote.
Added sweeteners
The original bill was criticised for pandering to the needs of Wall Street bankers at the expense of ordinary citizens.

The $700bn is designed to be used to buy up devalued assets from struggling firms to help kick-start the economy.
Since the House rejected the bill, politicians have added sweeteners such as tax breaks for small businesses and an increase in the amount of savings the state will guarantee - from $100,000 to $250,000.
The House is expected to vote again on the bill on Friday, and President Bush was keen to stress that the package was "essential to the financial security of every American".
"The American people expect - and our economy demands - that the House pass this good bill this week and send it to my desk," he said.
Premature celebrations?
US presidential hopefuls John McCain and Barack Obama, who both support the rescue plan, returned from the campaign trail for the vote.
Senate majority leader Harry Reid, a Democrat, said he was happy with the result and praised both presidential candidates for voting.
"I think it shows that when we work together we can accomplish good things," he said.
Mitch McConnell, leader of Republican senators, was also in jubilant mood.
"This was a measure that was much needed, to unfreeze the credit markets and get America's economy working again," he said.
But the BBC's Jonathan Beale, in Washington, says the bill has passed only the first hurdle, and such celebrations could yet prove to be premature.