China declares national mourning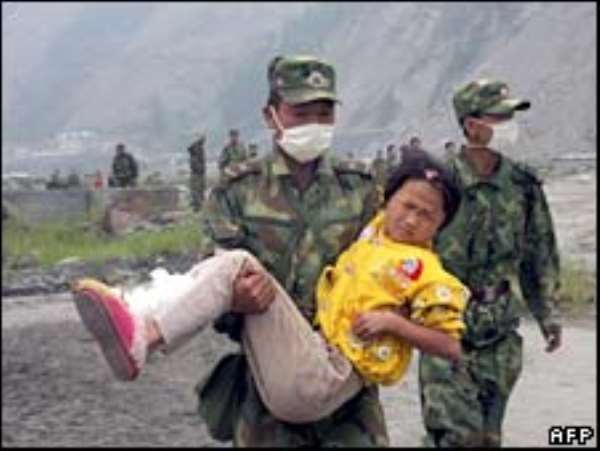 More than 10,000 people are believe to be trapped in rubble
China has announced three days of mourning for the tens of thousands of victims of Monday's earthquake.
It will begin with a three-minute silence at 1428 (0628 GMT), exactly a week after the quake struck the south-western Sichuan province.
The Olympic torch relay will also be suspended for three days.
The number of confirmed deaths has now risen to 32,477, but officials say the final toll may reach 50,000. More than 220,000 people have been injured.
Chinese President Hu Jintao has expressed gratitude for the international help with relief efforts following the magnitude 7.9 quake.
"I express heartfelt thanks to the foreign governments and international friends," Mr Hu was quoted as saying by the state-run Xinhua news agency.
Offers of help in the relief effort from home and abroad have now surpassed $860m (£440m), Chinese officials say.
The first aid supplied by the US has arrived, with an air force plane loaded with tents, lanterns and 15,000 meals landing in Sichuan's provincial capital, Chengdu.
However, a British rescue team standing by in Hong Kong is returning home after being refused permission to travel to the earthquake zone.
Rescue efforts have resumed in Beichuan, after the city was evacuated amid fears that it could be engulfed by a river bursting its banks.
The city, which lies near the epicentre of the quake, was reduced to ruins.
Aftershocks
Three giant pandas are missing from the Wolong Nature Reserve, Xinhua reports. All the pandas at the reserve were initially reported safe.
There are still stories of survivors being pulled from the rubble.
One man who was rescued on Sunday, Tang Xiong, had only had slight bruises and was conscious when he was rescued in Beichuan county 139 hours after the quake, Xinhua said.
A 53-year-old man was pulled from the rubble in the town of Yingxiu in Wenchuan county after surviving for 148 hours, state media said.
Rescue workers worked for eight hours to save him.
The region shuddered again as a strong aftershock - measured by the US Geological Survey at 6.0 - struck at 0108 on Sunday (1508 GMT Saturday).
There have been hundreds of aftershocks, some causing landslides. Rescue work has also been hampered by heavy rain in some areas.
The Chinese government has organised a massive search and rescue effort. It released figures on Saturday demonstrating the scale of the operation.
It said 220,109 people had been recorded injured, not just in Sichuan, but in Gansu, Shaanxi, Chongqing, Hubei, Henan, and Guizhou provinces.
It said some 181,460 tents, 220,000 quilts, and 170,000 cotton-padded garments had been despatched to the disaster zone.
More than 10,600 people are believed to be still trapped, Xinhua said, citing regional officials
Rescue teams from South Korea, Singapore and Russia have joined Japanese and Taiwanese experts taking part in the search.
The specialist teams are equipped with sniffer dogs, and fibre-optic cameras and heat sensors to detect people buried under the rubble.
But experts say the chances of finding people alive are diminishing.
Nuclear facilities in the affected area have been confirmed to be safe, the ministry of environmental protection's Nuclear Safety Department said, Xinhua has reported.
China has a research reactor, two nuclear fuel production sites and two nuclear weapon facilities in Sichuan, all between 60-145km (40-90 miles) from the epicentre, according to the French Institute for Radiological Protection and Nuclear Safety.
Source: BBC