Two state organs disagree over mosquito coils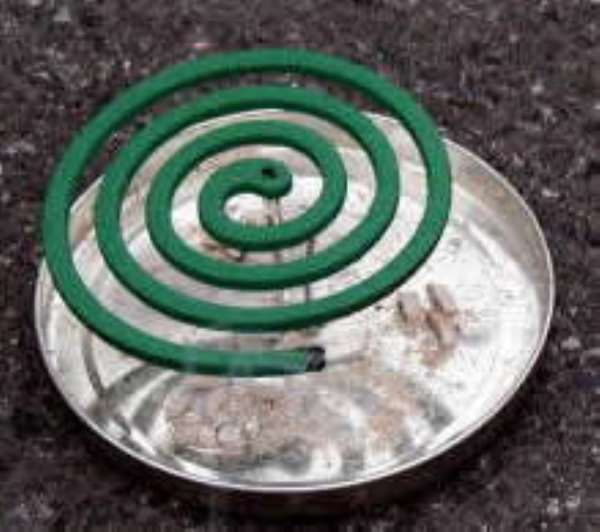 The National Malaria Control Programme (NMCP) and the Food and Drugs Board (FDB) have expressed divergent views on the general perception that mosquito coils and sprays kill mosquitoes when used in rooms.
While the FDB says such products kill mosquitoes, the NMCP on the other hand contends that the concentration required to kill mosquitoes is such that humans cannot sleep in the rooms under such conditions.
The Principal Medical Entomologist of NMCP, Aba Wilmot-Baffoe, speaking to the Times in Accra yesterday, said that if the required concentration is released into the room, the windows will have to be opened to enable the user to sleep in that room.
"Because these windows would have to be opened to reduce the concentration of the chemicals, what is left cannot kill but rather repel the mosquitoes."
The programme manager for the NMCP, Dr Constance Bart-Plange, also said that recently media advertisements on the ability of mosquito coils and spray to kill the insect was not a true reflection of the truth, given the way they are used. She was quoted in a statement at a workshop on malaria for journalists that the public must be told the truth that the product repels mosquitoes instead of categorically stating that it kills them.
Mr Bart-Plange therefore asked the FDB to call such advertisers to order.
Commenting on the issue yesterday, the Head of Drugs Evaluation and Research of the FDB, Delase Darko said all adverts in the media on such products are vetted and registered by the board.
Mrs Darko said any mosquito coil or spray registered with the board must contain allethrins, a chemical that destroys the central nervous system of mosquitoes.
"These chemicals have a knock-down effect on mosquitoes and, depending on the amount used, it kills the mosquitoes," she explained.
Mrs Darko said it is only the mosquito jells and creams that repel mosquitoes because of the repulsive smell to the insect.
She said it is important to realise that all products are registered by the board based on what the products are capable of doing and not until they have been confirmed by the FDB, they should not appear as advertisements.
Source: The Ghanaian Times