EPA will open economies of poor countries to European pirates – report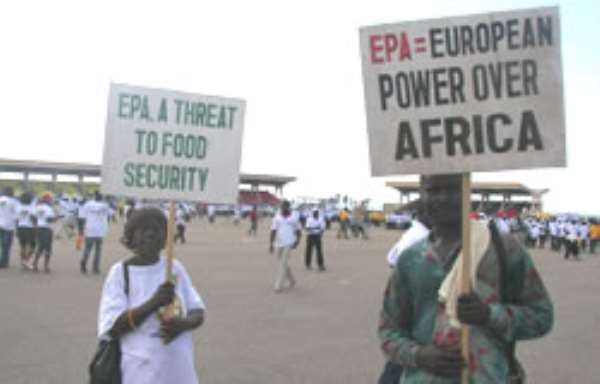 The Economic Partnership Agreement (EPA) due to be signed between the European Union (EU) and 110 developing countries this year would open up those countries to European pirates and ultimately increase poverty for less developed countries (LDCs), a new report on the EPA said on Wednesday.
"We are not against trade but we are against the type of rules that the EU imposes on us and that is why we say 'no' to European pirates," the report quoted Ms Norma Maldonado from the Central American-based International Gender and Trade Network (IGTN) as saying.
The report put together by the World Trade Movement (WTM) under the title "Raw Deal", and launched at the ongoing United Nations Conference on Trade and Development (UNCTAD XII) meeting in Accra, claims the benefits of signing a free trade deal with the EU sat firmly with European businesses, rather the developing countries.

Through the EPA, the EU is seeking to open up the markets of 110 African-Caribbean-Pacific (ACP), Latin American, Asian and Mediterranean countries for free trade in spite of the fact that all of those countries do not have strong enough economies to compete fairly with the EU.

Critics maintain that the fact that the EU provided heavy subsidies for its local farmers and multinationals, something that developing countries were being asked not to do, made the playing ground uneven.

The WTM through the report has therefore added its voice to the widespread call for the EPA to be rejected outright.

Meanwhile other organizations, including UK-based international charity, Oxfam, have said that a better deal would be to include some amount of development content in the EPA for less developed countries and for the EU to open up its markets for least developed countries (LDCs) now.
The report captured the development impacts of two existing EU bilateral trade agreements with South Africa and Mexico, saying that in both examples the deals were found to be one-sided in favour of the EU.

The impacts highlighted by the report included balance of payment problems, decreased tax revenue, decreased access to credit for farmers, decreased ability to effectively regulate foreign investors and increased unemployment in those two countries.

"An almost 50 per cent increase in South African food and drink imports from the EU, including diary products, cereals, and processed food and drink, coupled with the reduction of tariffs on European sweets in South Africa has resulted in 25 per cent fall in employment in the sweet making industry in that country."

It said South Africa's growing trade deficit with the EU had made that country more vulnerable to international debt, particularly destabilizing short-term capital flow.

In the case of Mexico, the report said that country could no longer regulate the proportion of foreign shareholders in banks.

"Mexico can no longer favour domestic companies for government procurement contracts, which amounts to six per cent of GDP, even though UNCTAD has said that favouring domestic companies is a vital tool of development," it said.

It also projected government revenue loss to the tune of 7.5 per cent of GDP in Namibia.
Meanwhile Ghana and Cote d'Ivoire, who have already initialled an Interim EPA, are expected to lose at least 83 million dollars a year in import tariffs on goods from EU.
Ms Maldonado said the EU wanted to impose things on LDCs which they (EU) did not impose on themselves, such as demanding access to LDCs, even though they had huge subsidies on their own agricultural goods.

Ms. Vicky Cann, Trade Policy Officer of WTM, said EU trade deals were unfair and hurt the poor, adding that the evidence was that the EPA would benefit European multinationals and hinder rather than help the development of poor countries.

"In this time of rocketing world food prices, it is hard to believe that Europe seeks to open up developing countries' markets to heavily subsidized European exports, putting LDCs farmers out of business and undermining food security," she said.

Charles Santiago, MP for the Democratic Action Party in Malaysia, described the EPA as a re-write of trade rules in favour of EU corporations, following the thwarting of EU's plans at the World Trade Organization (WTO) by LDCs.

"EU is now targeting LDCs individually to reap the rewards it couldn't get at the WTO because countries stood up and said 'no' together. To developing countries I say keep away from EU free trade agreements, they do not work in your interest," he said.

Mr. John Ochola from Econews in Kenya called on European citizens and companies to stand up to their governments and tell them not to make the poor poorer.

Meanwhile 25 individual LDCs, including Ghana, have already initialled an Interim EPA, under which a number of exports between them and EU were under a quota-free, duty free regime, pending the signing of the full EPA this year.

Critics have said if the EPA is signed, people in the 110 targeted countries, 1.47 billion of which lived on less than a dollar a day, stood the risk of even further sinking under the doldrums of poverty.