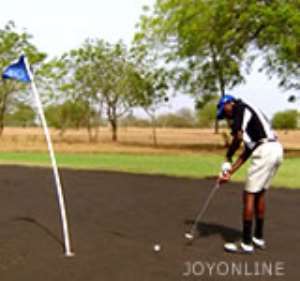 The immediate past president of the Achimota Golf Club, the late Sydney Quartey and his late father, P.D. Quartey would be remembered with a Golf Memorial competition at the Achimota Golf Course in Accra on Sunday, April 27.
Mr Kwabena Oteng-Aboagye, General Manager of the Club, who announced this in Accra on Tuesday, said P.D. Quartey, who was a senior member of the Club died in the year 1989 while Sydney Quartey died in 2006.
He said the one-day 18-Hole Stable-ford event, which is open to amateur and professional golfers throughout the country, would be played under the rules of the Ghana Golf Association.
Mr Oteng-Aboagye said the event, being sponsored by the Quartey family, would be supported by the Achimota Golf Club and that a keen and competitive competition was anticipated.
He said about 100 golfers have so far registered for the joint competition and expressed the hope that the number would increase by the close of registration on April 26.
Mr Oteng-Aboagye announced that management was putting up adequate preparations to ensure that the Golf Course is playable and called for the co-operation of the members.
Five prizes would be awarded in the Men's category with the Ladies sector receiving three awards.
Mr Mike Ezan, President of the Achimota Golf Club would be the Special Guest of Honour.