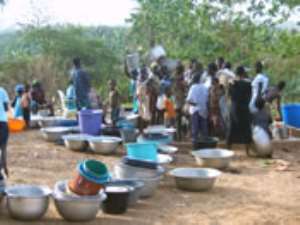 The Coalition Against Water Privatization has taken a swipe at Hackman Owusu-Agyemang, former Works and Housing Minister for praising Aqua Vitens Rand for its management of the country's water system.

The Coalition Against Water Privatization was unhappy that Hackman Owusu Agyemang has praised Aqua Vitens Rand Limited, operators of Ghana Water Company for the manner they have managed the country's water system.
The Southern Sector Coordinator of the Coalition, Alhassan Adam says it is unfortunate that Hackman Owusu Agyemang is pretending to see how Aqua Vitens Rand has failed the entire country.
The former Minister, under whose tenure the contract with Aqua Vitens was signed, says he is satisfied with the work of the company. Mr. Owusu Agyemang further noted that calls for the abrogation of government's contract with Aqua Vitens are misplaced and mischievous.
But speaking to Joy News, Alhassan Adam said Mr. Owusu Agyemang does not have the right to comment on the competence of Aqua Vitens adding that he should also be blamed for signing such a poor contract.
Alhassan Adam told Joy News the Coalition still stands by its position that government abrogates its contract with Aqua Vitens Rand Limited.
Meanwhile residents in the Ho Municipality in the Volta Region will have to experience water rationing for the next two weeks as a result of a break down of a water pump at Kpeve. The Chief Manager of the Volta Regional Water Company Boakye Frimpong tells Joy News that engineers are seriously working round the clock to restore the facility.