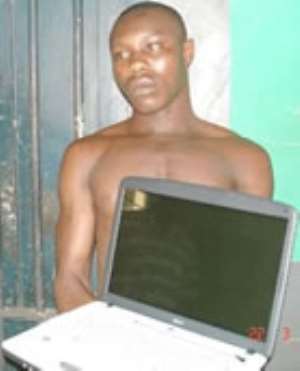 A man who is alleged to be robbing students and other passers-by of their belongings at the Takoradi Polytechnic Traffic Light at night has been arrested.
The suspect, Nicholas Nyantekyi, 22, a welder in Takoradi, allegedly pounced on a victim and robbed him of his laptop, mobile phone and his wallet containing money.
Unknown to Nyantekyi, the victim knew him but decided to keep quiete because Nyantekyi had threatened to slash his (victim's) throat if he challenged him. That was after Nyantekyi had inflicted some minor wounds on the victim's finger.
Although Nyantekyi managed to get away, the victim later led the police to arrest him. The laptop was also retrieved from Nyantekyi's room upon a search.
According to the District Crime Officer, ASP Dela Dzansi, many of the victims who had reported to the police about being robbed at the traffic light identified Nyantekyi as the one who attacked them.
He said the police were still investigating the suspect following the allegations.
ASP Dzansi advised the public to be careful when walking in dark places and urged those who might have suffered such acts to make a report to the police.
Source: Daily Graphic