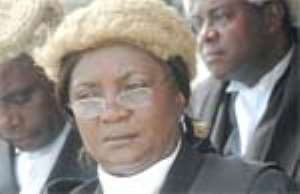 The Chief Justice, Mrs. Justice Georgina Theodora Wood on Friday announced plans to provide laptop computers to the three hundred members of the judiciary within the shortest possible time.

She said the plans were in line with her vision to strengthen the capacity of the judiciary to carry out its work of administering and delivering justice more efficiently.

Mrs. Justice Georgina Wood announced this when she received thirteen laptop computers valued at GH¢14,352 from the United Nations Development Programme (UNDP) in Accra.

The Laptops are to be used by the thirteen Justices of the Supreme Court as part of the Judicial Service's Automation Programme to enhance efficiency and the quick delivery of justice.

She commended the UNDP for their timely support, which she said, would go a long way to assist the justices in the efficient discharge of their duties.

She said in this modern era where the Supreme Court and the Court of Appeal rely more on written advocacy than oral arguments, courtroom hearings are no longer really time consuming or tasking.

She said the real task of judges commences after court hearings, studying the court record and doing the necessary research that judges must begin to translate into their judgments.

Mr Shigheki Komatsubara, Deputy UNDP Representative in Ghana who made the presentation said the Judicial Service (JS) had a constitutional responsibility of interpreting the law and protecting the rights of citizens.

He said however, the realization of this mandate is challenged by capacity constraints that the service faces resulting notably in congestion in the courts and its associated delays and access to legal remedies.

He said in line with the GPRS II and the United Nations Development Assistance Framework agreed upon with the Government of Ghana, the UNDP through its Country Programme Action Plan had supported the Judicial Service, Ministry of Justice and Office of the Attorney General, Legal Aid Scheme, Commission on Human Rights and Administrative Justice (CHRAJ) and Civil Society Organizations to ensure effective delivery of justice and the upholding of the rule of law in Ghana.
Source: GNA