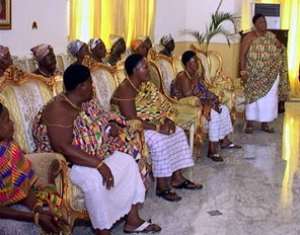 Magestic Queen Mothers of Ghana
The Central Regional Minister Hon Sumpahene, Nana Ato Arthur has expressed the need for paramount Queen Mothers to be involved in the Regional House of Chiefs' meetings as soon as possible to ensure effective local governance in the country.
According to him, 'Ghana has a long history of the fusion of traditional and formal governance but a lot more remains to be done to promote decentralisation and democracy'
The minister made this known at the Opening of a 3- day Capacity Building Workshop on the Role of Queen Mothers in the Local Governance system, organised by Pro-Image Consult in the Central Region under the theme 'Queen Mother in Local Governance - Fostering Active Participation of Individuals in Governance'
The minister said the effective participation of traditional authorities has a potential of helping District Assemblies to achieve sustainable development and a more just society.
He noted that by a concerted and participatory action in the areas of discipline enforcement of provisions in the constitution, empowering queen mothers for participatory and demand-driven development as well as support from and effective collaboration with District Assemblies, Traditional Councils, House of Chiefs, Universities, and NGOs, Queen Mothers would take their rightful role as enshrined in the 1992 Constitution.
Nana Ato Arthur pointed out that in maximizing the roles of Queen mothers in decentralisation in Ghana, there is 'the need to reduce the challenges facing queens' adding that this, would provide a setting which local self-governance could realise.
He called on all chiefs to desist from active politics as enshrined in Article 276 (1) of the 1992 Constitution 'A chief shall not take part in active politics; and any chief wishing to do so and seeking election to Parliament shall abdicate his stool or skin'.
A representative of the Institute of Local Government Studies, Mrs Magdalene Kannal, observed that queen mothers have an important role to play in educating the communities on HIV / AIDS government policies, sensitising parents on child education, trafficking, domestic violence, and the mobilisation of citizens for development.
She urged all participants to take the workshop seriously in order to take their rightful roles as leaders in the communities.
The President of the Central Regional Queen Mothers Association, Nana Ama Amissah III assured the minister that queen mothers are up to the task ahead and are ready to perform all functions as Members of the Assembly to ensure an effective development.