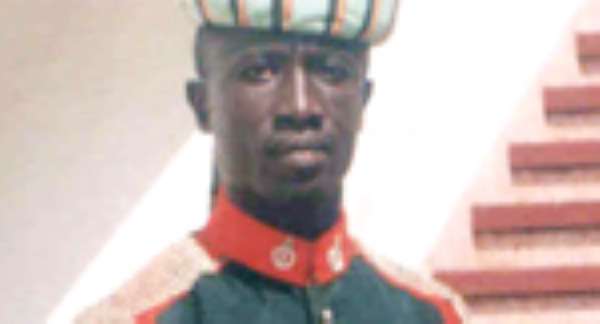 DAILY GUIDE has stumbled upon gory details of how L/Cpl Sumaila Abdulhamid, a.k.a. Joe Manan, was butchered by a lone man in Kwahu Praso in the Eastern Region.
He is one of four policemen who have been killed in uniform in the past ten days.
Joe Manan, who was attached to the Police Mounted Squadron, Osu in Accra where he performed high profile ceremonial duties at both the Castle and elsewhere, until his transfer to the Eastern Region three months ago, met his death while preparing to report for duty.
On that fateful day, Joe Manan, a native of Tamale, while drinking a bottle of Malt in his room downstairs, overheard a rancorous noise outside, DAILY GUIDE was told.
When he went out, he found an agitated crowd seeking the blood of a man who had allegedly killed another man. The policeman, seeing the anger in the charged crowd, fired his AK 47 rifle to instill some order, as the man, Kwadwo Attah a.k.a. Okailey sought refuge upstairs.
Indeed, the man had pleaded with him to control the crowd before he would lay down his machete and come down the staircase.
Joe Manan turned round and asked the crowd to leave since the embattled man had responded and laid down the cutlass he was wielding.
With his back turned, and before he could respond to the crowd's yell to look out, the man re-possessed the weapon.
In a flash, he raised the machete and hacked at the neck of Joe Manan, inflicting a deep wound, with blood gushing out. As the peace officer fell, he rolled down to the foot of the staircase.
The assailant followed him down, dealing him a cul de grace through a deep cut on his face, which killed him instantly. With the officer down, Okailey grabbed his firearm and fired two shots before fleeing once more to the nearby bush with the assault rifle in his possession.
Kwadwo Attah did not live to explain his fatal action as he died during his struggle with a team of policemen who apprehended him eventually.
L/Cpl Sumaila Abdulhamid was enlisted in the Police Service in 1997 after passing out from the National Police Depot at Tesano.
It would be recalled that he was one of the Mounted Police officers dispatched to keep peace when former president Jerry John Rawlings made an appearance at one of the sittings of the defunct National Reconciliation Commission (NRC).
While on horseback, he was hit with a large stone by irate political elements who had besieged the former parliament house in support of the former president.
His pregnant wife and child were on Monday dispatched to Tamale as their breadwinner was no more.
He was survived by a mother, his wife and the child.
Abdulhamid's colleague, Moro Zakari, who was also fatally knifed by a semi-deranged man at Asylum Down in Accra last week was also buried on Monday according to Islamic rites.
At the Osu Police Barracks, colleagues of the slain Joe Manan were solemn, with one even asking in disbelief whether indeed their colleague had passed away.
By A.R. Gomda