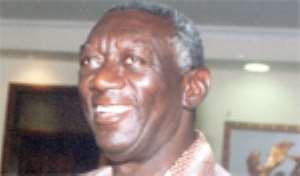 PRESIDENT JOHN Agyekum Kufuor has assured the nation and the international community that he is well and alive after his vehicle was involved in an accident on his way to work yesterday morning.
Narrating the incident to journalists at the Castle, Osu a few hours later, President Kufuor assuaged the fears and anxiety of Ghanaians and thanked them for their concern.
He said all he realized was a flash and "I heard a bang on the right side of my vehicle, turning the car upside down".
According to the President, those who were immediately around the scene of the incident "came to pull me out."
The First Lady, Mrs. Theresa Kufuor and other family members rushed to the Castle upon hearing the news, to find out what had happened to the President.
Also present at the Castle were Vice President Aliu Mahama, government officials and other NPP faithful.
The drivers of the President's vehicle and the one that ran into it were both admitted at the 37 Military Hospital.
Sources at the hospital were however tight-lipped over the situation.
Meanwhile, the Minister of Information and National Orientation, Mrs. Oboshie Sai Cofie has called on the public especially the media to be circumspect and wait patiently for investigations to be concluded in order not to draw any hasty conclusion.
When asked if anybody would be held responsible for the incident, she said "if anybody is found culpable, that person will be held responsible."