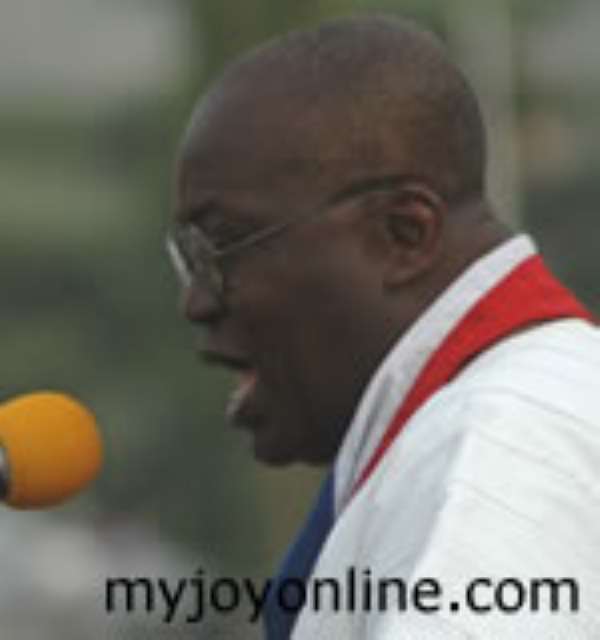 Nana Addo Dankwa Akufo-Addo, a presidential aspirant of the New Patriotic Party, has stated that there had been a marked improvement in the nation's development under the current NPP government.

He said that was why the NPP has to win the 2008 elections to continue with the good works of President Kufuor.

Addressing enthusiastic party followers at Obuasi as part of his campaign tour of constituencies in the area, Nana Akufo-Addo said aside of all the developments the nation was yet to become a paradise.

The former Foreign Minister said there is still a lot to be done to make Ghana a well-developed nation and that was why he had offered himself to be made the leader of the party in 2008.

"I am here because of the future of NPP. I am amongst those who want to be the party's flagbearer", he said.

The presidential aspirant stressed on dynamic leadership saying "we need that leader to help raise our Members of Parliament from 130 to 160 and also win the three other constituencies in the Ashanti region".

"We have to improve the organization in the Ashanti Region to improve our votes and win in all the constituencies", he stressed.

Nana Akufo-Addo told the constituencies and polling station executives that NPP needed a true member who fought for the party over the years and had also been part of the struggle during the difficult periods to be the leaders in the 2008 elections.

He cautioned against statements that the party should have a Muslim leader to entice the people in the north to the party.

Nana Akufo-Addo pointed out that the NPP was a party with people from so many religions and that such statements could bring divisions into the NPP family, stressing that, the party only needed a true member to lead and nothing else, adding, "we should not introduce religion into party politics. We need unity and oneness".

He pledged that he would work with the rest of the aspirants to move the party forward should he emerge the winner at the congress.