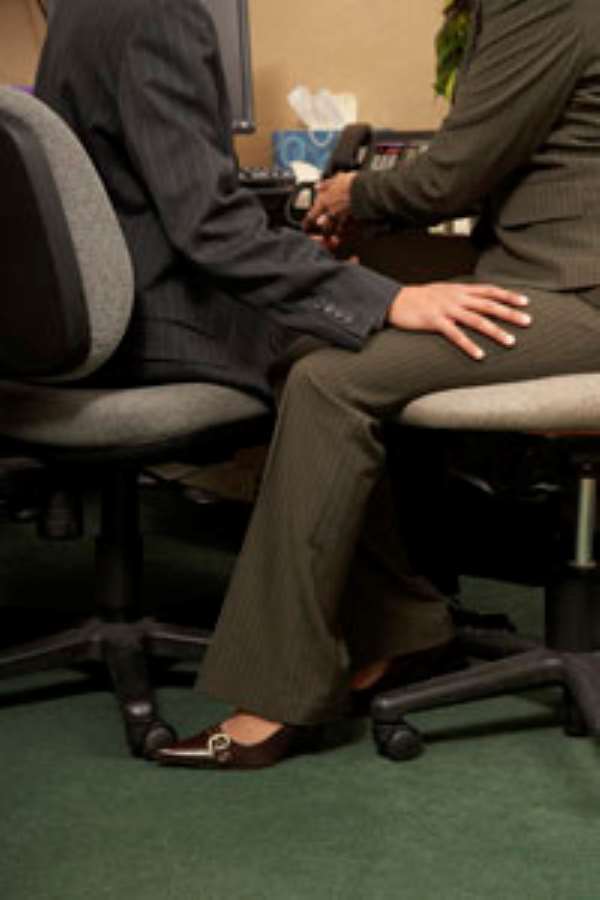 Work romance is a relationship that occurs between two people who work together in the same office, work location, or business. This relationship between partners at work can be as wide as a National Service Person and the Head of an organization, Intern and President, Boss and Secretary, and so on.

Inter-work romance between an executive and an employee can presage sexual harassment claims which are usually very serious leading to lawsuits.
Work romances are generally believed to be unhelpful to the welfare and effectiveness of the business and to the network of relationships that comprise it. They contain the potential for abuse, alliance, and distraction.
Falling in love or having a crush on a fellow colleague can sometimes be an interesting experience. It is now common to find colleagues at work places dating each other. As much as people have condemned this kind of love affair, some are also enjoying it.
Work romance is indeed an interesting experience, and those who have in any way experienced this have had their own stories to tell. I took the time to ask some few gentlemen and ladies what they feel about work romance. Let me share their responses with you.
My first point of call was Akwesi; he works with a Bank and a graduate of one of the Universities. According to Akwesi, he spends most of his time at the office, that is to say, he works from Monday to Saturday. He has only Sunday to do all the socialisations and other personal stuff. So he decided to satisfy his love needs by secretly having an affair with one of the beautiful ladies called Josephine, a junior staff at the office. Even though he feels it is not right for him to date a co-worker (according to the rules of the company), he also thinks he is in love and must enjoy it to the fullest.
He is definitely keeping this relationship which he is enjoying secret. He knows some of the staff at the office are gossiping about this relationship. Josephine spends most of her weekends at Akwesi's place and when they are in need of each other and want to spend a lot of time together, they do so during the week after work.
Even though Akwesi and Josephine have been "caught" once by one of the staff when they were doing their own thing, he still feels love should be expressed anywhere, anyhow and any way,
"It is not a crime, it is a natural feeling" he added.
Naa Adjele is also dating Christopher, one of her colleagues at work. They have been dating each other for the past six months. They also share the same office and find work romance very exciting.
"We don't need to go to a hotel to do anything, all we have to do is to lock the office door and do it right there, I don't know how my love life would have been without this relationship" Naa Adjele stated.
She went on to say that, things that happen during work romance are very unique, special and uncommon.
"It is nice to feel Christopher standing behind me and holding my waist whiles I do the photo copies in our office.
Delali is a secretary who is now married to her boss she has been dating in the office for the past three years. According to her, the beginning of the relationship was a very difficult one but with time, it became much easier.
"One of my greatest memories was when I have to sit on my boss' laps for him to dictate some notes for me to write (which usually leads to something else) and also the time we have been spending together when we have to go on official trips outside Accra. Even though we book different hotel rooms, I always end up sleeping in his room. It was always fun".
Mr Amponsah who fell for a junior staff who is married with one child had it very tough when his wife found out. Even though his wife has forgiven him, he knows his wife does not trust him again. He ended by saying "Every man must love his wife".
From the above responses, it is clear that work romances may be interesting. There are many issues, both positive and negative. But have we been able to identify these issues?
A friend was telling me the other time that, since he started going out with one of the staff at the office, it has saved him the headache of finding a woman who would be troubling him with the issue of time, he gets all the satisfaction that he needs from this lady at the office who knows when he comes to work and closes, so for him his job came with a package which includes that sweet lady.
A lady also told me work romance gives both married men and women the opportunity to "taste" love life outside marriage.
As I was writing this article, the following questions came into mind;
How about the higher ranked and the subordinate love affair at the work place? Do you have to agree to have an affair with a higher ranked officer at work for fear of your job? This can be serious.
How would you also feel if you realise that because you must keep your love affair a secret, other colleagues may be flirting with your partner?
Would you be able to compete with a boss who is also interested in your partner?
If you are the Boss of a company, would you be able to fire your partner or would you be able to avoid false accusations of favouritism should it come up and also accusations of sexual harassment whenever there is a break-up?
All these and more are some of the issue we should be thinking about if indeed we want to have fun and enjoy work romance.
I believe this is a controversial issue, so what's your opinion and experience with work romance? Let's hear you.