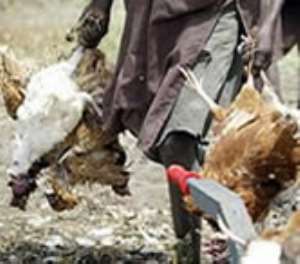 The Veterinary Services Department of the Ministry of Food and Agriculture (MOFA) on Tuesday assured the public that Ghana has the necessary equipment to test avian influenza virus.
'The Veterinary Services has an Avian Influenza Diagnostic Laboratory, which was refurbished in April 2006 by the United States Agency for International Development (USAID) and the Noguchi Memorial Institute for Medical Research (NMIMR), which has an advanced facility - Polymerase Chain Reaction (PCR) - to detect genre of the virus,' Dr Enoch Boye-Mensah Koney,
Director of Veterinary Services told the Ghana News Agency in Accra.
He was refuting claims by the Tema Municipal Poultry and Livestock Farmers Association and Farmers' Union, who have doubted the authenticity of the reported outbreak of the H5NI Bird flu in the Municipality.
Dr Koney explained that the specimen that was collected from the farm in Tema was first sent to the Accra Veterinary Services Laboratory, then to Noguchi and U.S. Naval Medical Research Unit No. 3, Cairo, Egypt for confirmation.
'Samples have further been taken to the International Animal Health Avian Influenza Reference Laboratory at Padova, Italy, to determine the sequencing or the type of strain of the virus," he said.
"The report will help us to trace the source and know whether the type we have detected in Ghana here is the Nigerian type, South Asian or any other type.'
He assured poultry and livestock farmers in the Municipality to believe that there was an outbreak of the bird flu virus and advised them to ensure bio-security by maintaining higher standards of hygiene and also put in protective measures against wild birds and other ruminants.
'Currently, our officers are on the field specifically at the place in question, which is 200 metres from Michel Camp destroying all farms, first of all, within three-kilometre radius, then extending it to five kilometre radius and then eight kilometres radius. This is to ensure safety of the people.'
Dr Koney asked the public not to panic, since the Service had deployed task officers working to prevent further outbreak of the virus.
Mr Ernest Debrah, Minister of the MOFA on May 2 announced at a press conference in Accra that the bird flu virus had been detected on a small-scale farm in Tema but no human had been affected.
GNA