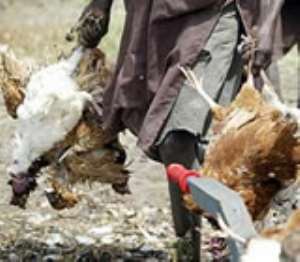 Information reaching Joy News says the Veterinary Services Department of the Ministry of Food and Agriculture is investigating a case of bird flu infection in Ghana.
A discovery was said to have been made at the port city of Tema.
Joy News sources at the Veterinary Services Department say even though initial checks suggest it might be bird flu, further checks will be needed for a definite conclusion to be reached.
According to the sources a blood specimen is being readied for analysis at the World Health Organisation's laboratories in Italy.
Bird flu is a deadly strain of a virus that attacks poultry and kills them after a short period.
The deadly H5N1 bird flu can kill humans and has killed at least 88 people in Asia and the Middle East since 2003.
There is presently a ban on the importation of poultry and poultry products including feathers into Ghana from countries that have previously reported infections including Nigeria, Burkina Faso, Cote d'Ivoire, Egypt and Niger.
Meanwhile a four-day forum has been held at Jema in the Kintampo South District of Brong Ahafo to sensitise 45 assembly members and heads of department on the Avian Influenza.
The forum, organized by the Kintampo South District Agricultural Development Unit of the Ministry of Food and Agriculture, would enable the participants to keep surveillance on the disease and help in its prevention.
Mr. John Kweku Appiah, district director of the Ministry, explained that the forum was meant to reinforce public awareness about the bird flu so they could collaborate with agricultural extension officers to detect, prevent and control the disease.
Mr. Appiah advised the general public to properly boil and cook eggs before consumption and advised the participants to educate their people to report symptoms of any strange disease among their birds to the veterinary services.
Mr. Yaw Adjei-Duffour, District Chief Executive, expressed regret about how the poultry industry nearly collapsed some years back because of rumours that the disease had been detected in the country.
He appealed to the participants to help erase any wrong perceptions about the disease in the communities.
The District Chief Executive advised the youth to go into poultry keeping to improve their livelihood.