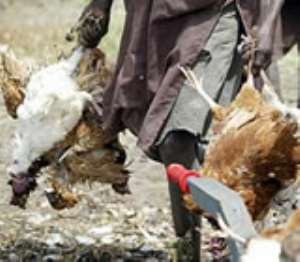 Good news! Ghana is now free of the Avian Influenza or bird flu.
As a result, all quarantine measures and restrictions on the movement of live poultry and poultry products into and out of the Tema and Sunyani municipalities and the Ketu district, where the outbreaks were reported, have been lifted, says the Agriculture Ministry.
A total of about ¢1.5 billion has been paid as compensation to farmers by the government, Anna Nyamekye, a deputy minister of Food and Agriculture, said at a press briefing in Accra yesterday on the Avian Flu situation in the country.
She said, however, that the ban on the importation of live birds and all poultry products remains in place and asked the security agencies along the borders to remain vigilant since the virus still exists in some countries in the sub-region and around the globe.
Giving a breakdown of the farmers' compensation which she said was agreed upon by the ministry and the Ghana Poultry Development Board, Ms. Nyamekye said farmers in the Tema area got about ¢1.3 billion as compensation.
'For those in the Sunyani area, an amount of ¢113,741,500 was paid while those in the Aflao area were paid ¢100,634,000,' she said.
The deputy minister said the gestation period of 21 days, which is the recommended period for destruction of birds and disinfection after which an area could be considered safe with regard to Avian Influenza, had been extended by the ministry to allow enough time for surveillance in all infected areas and the whole country.
'So far, there has been no reported human infection during the outbreaks,' she said but advised the public to continue to wash their hands thoroughly with soap and also ensure that chicken and chicken products were well cooked before consumption.
Dr. Francis Konadu Ampratwum, Principal Veterinary Officer in-charge of Public Health, said staff of the Veterinary Services Directorates have started training poultry farmers on the importance of biosecurity on their farms, saying it would continue until all poultry farmers have been reached.
The first outbreak of the virus in the country was reported on April 24 on a small-scale poultry farm within the Tema municipality, but further intensive surveillance revealed four other infected farms in the area.
The disease was also detected in the Sunyani municipality on May 21, and later on another small-scale poultry farm in Aflao in the Ketu district of the Volta Region.
At the time of the resolution of all the cases, 13, 371 birds were reported dead as a result of the outbreak while 27,356 birds were destroyed by the veterinary services as part of the control measures.