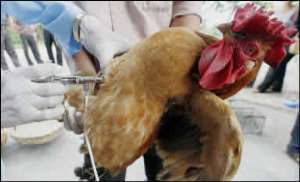 A legal practitioner, Ace Ankomah says that the right to own a property is not absolute, but restricted, and that public health is a consideration for restriction. He made mention of this in regards to what Dr. Mary Grant said about banning backyard poulty farming. He was speaking at a lecture organised by the Executive Council of Association of Recognised Professional Bodies (ARPB), to brief the public on the current situation of Avian Influenza in Ghana.
Mr. Ankomah touched on the constitution and the legal implications in regards to actions taken to cull infected birds. He said farmers whose birds have been infected and are therefore 'killed' to halt the spread of the virus are left to their fate. "This throws up legal questions that has to be addressed," he affirmed, "your ownership and investments have to be protected by the constitution." Mr. Ankomah disclosed there is a law in the constitution that covers bird flu, so the issue of bird flu is not the absence of law, but the neglect of it.
The Principal Veterinary Officer of the Veterinary Services Department Dr Francis Konadu-Ampratwum, made a presentation on the history of the H5N1 Bird flu pandemic, and how it finally got into the country. According to him, farmers whose birds have died as a result of the influenza have not been helpful as to how the birds got infected. "It's either they know and are not telling us, or they don't know at all," he stated. He advised farmers to take the biosecurity method of prevention seriously.
Doctor Asare, from the Ghana Medical Service also elaborated on the effects of the pandemic. He said the issue of bird flu, if not taken seriously would eventually result in unemployment and poverty. He explained that every six out of ten infected people die. At the moment, he said, the virus is not transmitted from man to man, but we should pray it does not. He revealed that the complications involved in an infected human being include pneumonia, worsening of chronic diseases, lung problems and lots more, adding that no one is immune to the H5N1.
In his presentation, Dr. Asare stated that an influenza pandemic is a rare but recurrent event. "From the records, every 40 years there is a pandemic, and the last time there was such a pandemic was 39 years ago" he stated, citing the Spanish Influenza, Asian Influenza, and Hong Kong Influenza as examples of such pandemics. He added that the pandemic affects all countries, but even if there is an immunisation or drug, the UNAIDS will surely take care of the United States first. "So a pandemic breakout will mean no help for Ghana, because Ghana will be left to her fate," he said.
According to Dr. Asare, there is some monitoring and surveillance going on in Aflao where nasal samples of birds are being taken for tests. The tests are being conducted to find the type of H5N1 in order not to be caught unawares. He cautioned frontline workers of the level of fatality involved in handling infected birds, and therefore must be insured.
In regards to the number of isolation units of regional hospitals available for treatment and housing of infected persons, Dr. Asare mentioned 37 Military Hospital as the only one. He pleaded with government to set up a task force body that is legally and constitutionally empowered, and not a coordination that is more of a 'toothless bulldog'.
A Senior Vertinary Technical Advisor from USAID, Andrea M Miles also affirmed that even though the human fatality is low, the risk of getting the virus is scary. She disclosed 319 people have been infected, with 192 deaths recorded as of 25th July, 2007, thereby showing that H5N1 has about 60% case fatality. " There are at least a million birds infected, we need to stop Avian Influenza in birds to prevent human infection and a possible pandemic" She advised.
The concept of the meeting, according to Mr Sam Okudzeto, a legal practitioner and chairman for the meeting, is not to twist government's arm, but to reshape Ghana by asking government to do what they have been elected to do. He charged the media to do away with politics and concentrate on issues that affect us. "Let's use such an effective instrument for the education of Ghanaians", he urged.