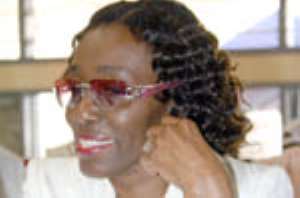 Nana Konadu Agyeman Rawlings, former First Lady and president of the almost extinct 31st December Women's Movement (DWM), has started crying foul ahead of final determinations of civil and criminal trials she and her red-bereted organization are facing.
As in the case of Mr. Tsatsu Tsikata, without having exhausted local remedies, the former First Lady, who boasted on radio several times that she was not afraid of going to jail,
has resorted to soliciting the help of what she called 'friends' in several countries to plead her case in The Hague, Netherlands.
Claiming she was being politically harassed, she said she had sent her side of the cases to representatives of women's groups in some 126 countries, so they could fight for her later this year at the United Nations.
She hinted that the fight for her by the women of 126 countries would begin in two or three months' time alongside other petitions from the Philippines, Palestine and Nigeria.
Mrs. Rawlings claimed further that she felt so unhappy with the Justice Afreh ruling on the Quality Grain Case and its subsequent sentencing of Kwame Peprah, late Victor Selormey and Dr. Sipa Yankey that she petitioned the same body about the judgment, and the recipients of her petition wondered aloud whether Ghana had a Bar Association at all.
Answering series of questions during a two-hour interview on Joy 99.7 FM on Monday, she said she and the DWM were being politically harassed and expressed fears that she might not get justice at the courts.
'It is harassment. You wait until you get into a similar situation, and you will know what it means. If you had been in court to listen to the arguments the lawyer put before the judge, requesting to uphold the case until the case was finished, the arguments put forward, everybody was shocked that he said No," she told Kojo Oppong-Nkrumah, the morning show host.
Asked why she felt apprehensive of the outcome of the trial whereas the same constitutional courts had acquitted some of her colleagues, including Madam Sherry Ayittey, she said the fact that one case went well, as against nine others was no comfort as each case needed to be viewed separately.
The DWM president said she was facing 30 counts of 'trumped up criminal charges' over her NGO's acquisition of the Nsawam Food Cannery. She claimed she found nothing wrong with accounting for stewardship, but believed government was only out to get her at all cost.
Ironically, Nana Konadu, after her calls on the UN for intervention in her alleged political harassment, expressed her admiration for other leaders the same international community describes as dictators.
According to her, on her recent visit to Venezuela, she was so impressed with the ideals of Hugo Chavez, she instantly respected him more than ever.
One of the bases of her admiration, she revealed, was the similarity of his ideals with those of the Provisional National Defence Council (PNDC), which was led by her husband after he had toppled the Third Republican constitutional government of Ghana and plunged the nation into 11 years of a bloody revolution.
On her children, Nana Konadu denied that they were privileged, claiming they led normal lives like all other kids. According to her, she used to drop them off at school herself, unless she traveled out of town, and was always ready to send them a biscuit or two personally when they asked her to.
Meanwhile, the former First Lady kicked shut almost every door of reconciliation aimed at healing the political abrasion between the ruling New Patriotic Party (NPP) and opposition National Democratic Congress (NDC).
Taking an entrenched position on past political developments, she claimed there was no point in attempting to reconcile her family with President John Agyekum Kufuor because the president had referred to her as an enemy.
Taking a swipe at the government, she alleged further that the current animosity between her family and the president originated from the end of the President, citing Kofi Annan, former UN Secretary-General, Chief Emeka Anyaoku, former Commonwealth Secretary-General and Mr. Eddie Osei, Kufuor's nephew, as some of the prominent people she had discussed the matter with, but whose interventions amounted to nothing.
Her virtually incurable heartache stemmed from the alleged refusal of government to let her cocoa project take off, for which reason she called President Kufuor a 'constitutional dictator'.
"I have a problem reconciling with a President who has made up his mind (not to allow to work) a cocoa factory that we have struggled, going backwards and forwards to China, to negotiate with them and actually built….Mr. Kufuor is not allowing this project to work and I'm supposed to reconcile with him on what issues?"
She stated also that the NPP government most probably hated her either because she was married to the former president, or the government was uncomfortable with outspoken, independent-minded women.