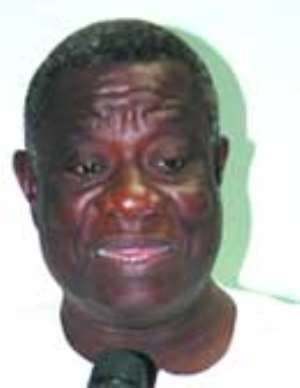 As part of his political tour of the Upper East region, Presidential candidate of the National Democratic Congress (NDC) Professor John Evans Atta Mills yesterday visited the family of the late Madam Hawa Yakubu in Pusiga, to commiserate with them on the passing away of the great woman who was undoubtedly, a heroine in the Bawku traditional area.
Prof. Mills signed the Book of condolence in which he simply wrote, "May the good Lord grant Hawa an eternal and peaceful rest," after which he expressed the condolences of the party and that of himself to the bereaved family.
He called on the family to remain united so as to be able to organize a befitting burial for the late Hawa whom he described as one of the best politicians the nation ever had.
While in Pusiga, the NDC presidential candidate visited the Pusiga Naaba and thanked him for the support he and his people have consistently given the NDC in the area and the constituency in particular.
Professor Mills then interacted with members of the party in the Pusiga Constituency and thanked them for supporting the party and also for giving him their mandate to lead the party for the 2008 elections. Yesterday was market day for Pusiga so he took advantage to interact with several of the women most of whom had been economically empowered by Madam Hawa, as she was popularly called in the Bawku area.
Earlier in the day the presidential candidate who was Vice President of the nation from 1996 to 2000 had paid a courtesy call on the regent of Congo and the Paramount Chief of the Bawku Traditional Area, Naaba Asigri Abogrago II, to express his gratitude to them for their leadership roles. He also thanked the traditional leaders for the support NDC has been getting from their domain.
At all the places visited, Prof. Mills met with party officials to express his gratitude to them for reposing their confidence in him and giving him the mandate to lead the party into an election for the third time.
While in the regional capital Bolgatanga on Saturday, he attended the funeral ceremony of the late Aaron Achaab, Ghana's Ambassador to Burkina Faso in the NDC regime.
The NDC candidate was accompanied by the Member of Parliament for Bawku Central, Mr. Mahama Ayariga, who served as his spokesperson during the party's presidential primaries held last December and Nii Lante Vanderpuije who was his press secretary during the presidential primaries of the party.
Other members of Professor Mill's team were Alhaji Bolnaba Mumuni, Upper East Regional Chairman of the NDC; Richard Adua, First Vice Chairman; Donatus Adua, Regional Secretary; David Aruk, Regional Organizer and Alhaji Issah Mumuni, Deputy Regional Organizer of the party.