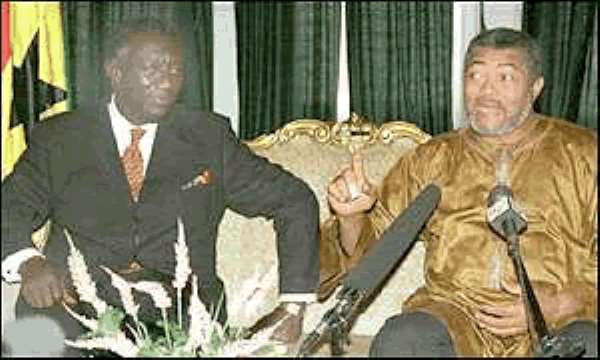 The Head of State of an unnamed oil-rich country, from whom former President Rawlings allegedly attempted soliciting funds to subvert the Kufuor-administration is the source of President Kufuor's intelligence report of Rawlings' coup intentions, according to the Daily Statesman's Gabby Asare-Otchere Darko.
The Managing Editor of the paper in an interview with CITI NEWS said that though he is yet to confirm the report, his sources are highly impeccable and flawless.
He said the yet-to-be-named oil rich Head of State exposed former President Rawlings' treasonable intentions after Mr Rawlings had held secret discussions with him, at which meeting ,he is alleged to have solicited funds for the purposes of an uprising against Kufuor's Government.
President Kufuor's alleged intelligence report, according to Gabby, therefore came about through a betrayal of Mr Rawlings by the unnamed Head of State of the yet-to-be-named oil rich country.
Mr Gabby Asare Otchere Darko also expressed bewilderment at what he described as overwhelming cynicism with which the former President spewed damning accusations against the Kufuor-Government, when he gave a lecture at the South Bank University in the UK recently.