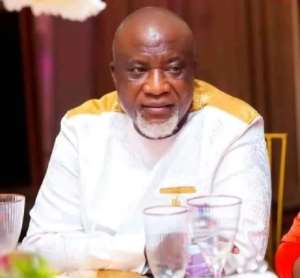 Hopeson Adorye
Emotional intelligence is an attribute which those who lack it should not come near a podium, let alone communicate to people imbued with the ability to read between lines.
OB Amoah, as he is fondly called, put it appropriately when he shredded the ethnocentric remarks by Hopeson Adorye.
As we have always stated, political parties, being the sources of governments, should be devoid of actions and remarks which have the tendency to give politics a bad name and therefore, fit for hanging.
We are in the third day since the effusions were spewed in Kumasi and we are yet to hear from the person in whose shoes the source of the remarks stood, and said what he said.
We doff our hats for OB Amoah's efforts in rubbishing the Hopeson Adorye's ethnocentric discourse. Remarks when they are unnecessary, often lead to the kind of aftermaths which has triggered this commentary and many before it.
Our political parties should exude qualities of decency so that the electorate can really look up to them at any given time for a choice, as to which of them should be given the nod. These parties are represented by personalities whose remarks are seen to be the positions of the parties.
As an NPP member, Hopeson Adorye's presentation of the history of the party, the way he did it, has left much to be desired.
It was for a purpose that even before independence, a law was passed proscribing parties which are ethnocentrically or faith-inclined. The so-called tradition he was trumpeting, if it was intended to provide impetus for a certain agenda, has failed as evidenced by this commentary and many that followed it.
So nasty was the comment that it has today taken the centre stage in national political discourse.
Unfortunately, the source of the incendiary remarks is insisting that he did not goof adding that he was only misunderstood.
Painting a picture of a certain group of our compatriots as always providing flag bearers and others, running mates, and going further to call for that trend to be maintained, is too glaring to be misunderstood.
We are constrained under the circumstances to point out that Hopeson Adorye is fighting back but the harder that he does, the more he is sinking in the integrity mud of political communication.
His apology of sorts fell short of one. Coming many hours after the remarks he made on the social and traditional media scene, his so-called apology was more of a show of defiance than remorse. Emotional intelligence should guide our utterances.
—Daily Guide