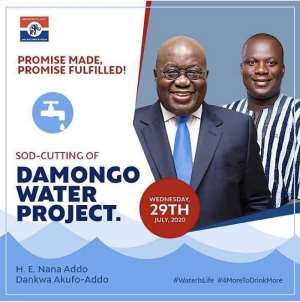 Hon. Samuel Jinapor,
It is with pain, disappointment and anguish that I write this letter to you. As a constituent and a taxpayer for that matter, I feel you owe me and all your constituents a responsibility to brief us on issues of development and issues relative to your work as an MP. So, if you chance upon this letter, the simple reason is that, I come with a clear intention, to exercise that right to information from your outfit.
It's exactly two years and one day today, since you and the President of Ghana, HE Nana Akuffo-Addo, came to Damongo, in a colorful and expensive occasion, to cut sod for the construction of the Damongo water treatment plant, with a supposed amount of $49m from the UK Export Finance and Deutsche Bank AG. This was after waiving explicit promises made the President in 2018 at the instance of the Yagbonwura to the effect that 10 mechanized boreholes were going to be drilled that year as a stopgap measure pending the substantive water project.
While many of us were skeptical about the said sod cutting ceremony due to our experience with your NPP government, many others fell for that charade and voted for you as an MP and your government as well. As usual of you and your government, you are taking the people of Damongo and Gonjaland as a whole for granted. Your simple reason is that, the people are perhaps gullible and hungry, and so they will fall for the few coins, cloths and foodstuffs you would surely be throwing at them when the time comes. Indeed, your government has squeezed the last breath in us to the extent that our hunger cannot stand the smell of the rationed food you are preparing to dish to us—that's your thinking.
Mr MP, your government was bequeathed with a loan facility of $39m being sourced from Eco Bank in December 2016–document attached. There are records in Ghana's Parliament to the effect that the said loan agreement was to be laid on 20th December, 2016, as it is captured in the order paper attached. Your side of the transition team at the time, wrote to Parliament to suspend all agreements involving capital expenditure which will be rolled over and executed by the incoming government. The promise made by the team then was that you were coming to continue from where the John Mahama administration left off. Unfortunately, and as usual of your government, once this project, just as the Busunu-Daboya road project, the Tamale-Salaga-Mankango road peoject, had to do with John Mahama's hometown, it was suspended and nothing was heard of same for well over two years. Several follow ups to the ministry and the relevant agencies yielded nothing but procrastination and embellished excuses.
Just when it was left with 5 months to the 2020 elections, this sod cutting was hurriedly organized and a specific promise of an 18 months project execution was made by the President and you, Hon Samuel Jinapor. To cover up your charade ans wicked agenda, the MP, Samuel Jinapor hurriedly organized a machine to drill the park of DA school in Busunu as a mark of some start of the project site, the rest is history.
After winning the 2020 elections, it's been one excuse over another and one usual fake promise over another. You had what you wanted and you now decide what we the people should discuss even on our radio stations and what not to discuss. You now want to censor political discourse and stage-manage our conversation to favor you and your government.
Only yesterday, 29th July, 2022, the two year's anniversary of that charade of a sod cutting in Damongo, as usual of you, you went to organize some street jamboree in Busunu, looked in the faces of the people and was making promises that the water project will be executed. What has become of your promise of 18 months execution beginning August 2020? It's been 24 month now Mr MP. It was in this same Busunu you brought the daughter of President Akuffo-Addo in 2018 to promise them of a factory. Do you think the people of Busunu have short memories?
Electioneering campaign is just a little about 12 months away although, you and your NPP started your campaigns just when you were sworn in. We are well aware that you are preparing to come and start some scratches on the ground just to cajole the people to once again fall for your deception. Shouldn't you be apologizing for the deceit since the promise made during the sod cutting wasn't fulfilled? Shouldn't you be humble and respectful enough to offer an explanation to at least the Overlord of the Gonja Kingdom, who, you and the President have deceived over and over?
Let me end with this. During the NPP Savannah regional elections, you, Hon Samuel Jinapor, made a declaration that Savannah Region and for that matter Gonjaland, will be the battle ground for the 2024 elections, because this is the backyard of Former President Mahama. You dared the former President to show how much control he has over Gonjaland and how much his people love him. We are assuring you that, with all the financial resources that you and your government have illegally amassed in waiting for the 2024 elections, we shall match you head on when the time comes, and we shall redeem the image and legacies of Former President John Dramani Mahama. This, we can assure you. Bring your dirty agenda on this time around; give arms to your youth; bring in invincible forces to serve as army officers and prepare the grounds to steal, we shall still match you with our empty hands without fear.
Thank you.
From Issifu Seidu Kudus Gbeadese
(Youth Imam from Laribanga)
0244198031