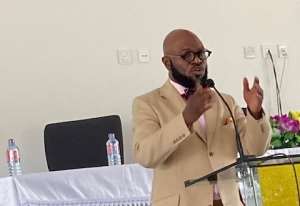 With the ongoing flooding in Accra Metropolitan Area, Dr Peter A Sam of USA cautions and warns government and community stakeholders that If we do not manage the massive Tree Cutting, Walks around houses, building construction on dangerous sloppy hillside and strict building Permits (stop the bribery of Assembly staff) and unauthorized kiosks and roadside merchants activities, we will within 1 year have massive flooding landslides, rockfalls, erosion, flooding and climate change in South Akwapim Municipality! Vulnerable townships are Aye Mensah, Kitase, Agymenti, Berekuso and around Peduase Lodge enclave and foothills quadrants down-gradient of Aburi. The Municipal Assembly must intensify the following initiatives:
1. Mass Community and Public Education including Mobile Weekly Announcement on Abatement of Tree Cutting and Unauthorized Roadside structures and merchant activities
2. Strict Building Permit Enforcement
3. Prohibition of Building Structures on Dangerous Sloppy Hills Enclaves
4. Strict Provisions and Conditionalities on Tree Planting, No Tree Cuttings and Restrict Walls around land plots
5. Impose Massive Fines on Structures on lands without a Permit including building Walks around plot of Lands without a Building Permitting
6. Impose Standard Requirement of 10% of all Land Development for GreenSpace and a Minimum of 12 Trees Plant for any Land Development
7. Impose Requirement of Bio Digestive Wastewater System for All Building Permits to protect the mountains groundwater aquifers and groundwater availability for future generations!
8. Urgently urge the Ministry of Roads to prioritize and construct the Kitase-Berekuso Road due to the imminent public health, national security and environmental threat endangerment.