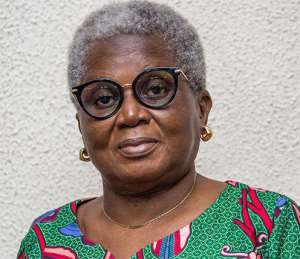 Elizabeth Ohene
"A man must be big enough to admit his mistakes, smart enough to profit them, and strong enough to correct them"
ELIZABETH AKUA OHENE has a very rich and captivating profile. Born in January, 1945 in Ho in the Volta Region, she attended Mawuli School, graduating with a Bachelor of Arts Degree in English at the University of Ghana in 1967. She obtained a Certificate in Mass Communication from the University of Indiana, U.S.A.
At the Daily Graphic, she became the first African woman to rise to the editorship of a newspaper in 1979. In the heady days of the so-called "Revolution", she boldly dared to criticise the brutal Jerry John Rawlings's government, and the Editorial of the paper a day after the execution of the six top military leaders was: "Stand Up and be counted."
She had to flee to the United Kingdom and became a sweet voice on BBC's "Focus on Africa". After living in London for 19 years, she returned to Ghana and became a Minister of State for the Ministry of Education, Science and Sports under Kufuor's administration.
Her latest diatribe or harangue is against her former employer, the BBC (where she worked for fourteen years). As a staunch supporter of the freedom of the press, she steps out to criticise the BBC for shoddy work on the Oliver Barker-Vormawor's clash with the law. She writes, "We do not expect the BBC would only defend journalists and programmes from other jurisdictions that meet its own standards."
She gores the BBC for using Barker-Vormawor as a measure, and lampoons "… the man whose claim to fame seems to be how scurrilous he can be about his opponents, who makes no attempt to be factual, and who uses the most obscene language to describe Ghana's First Lady at every opportunity…"
Mama Elizabeth says it all when she writes "I am very sorry to say that I am not impressed with your reliance on the West African Media Foundation. Unfortunately, they are no longer in my estimation, in a position to offer unbiased opinions on this government…" We can only say "kudos" for this write-up, and plunge into Elizabeth Ohene's previous article in Daily Graphic of April 13, 2022, headed: "The funeral experience as tourism" in which she states: "Ghana's Dancing Pall Bearers sell meme NFT for $1 million… A number of people have sent me the story and want me to concede that something good has come out of our preoccupation with funerals." Elizabeth admits she had always been "complaining about our funerals and the amount of time, energy and money we spend on them."
Contrary to Elizabeth's previously-held position, we had constantly held the view that every family that organises a funeral should look at their own resources and organise their funerals the best way they can think of. We should desist from surreptitiously advocating a law to "force" people into organising simple, less expensive funerals, No, for funerals, a family should "cut (its) coat according to (its) cloth."
It was fascinating, nay, captivating or was it entrancing to read in the said article (April 13, 2022) "I went to a funeral recently, where the clothes were changed on the corpse three times during the lying in state, a totally new definition to a shroud."
Yes, "Lying in state", This is the correct expression (NEVER: laying in state) when, as Donald A. Ritcher says "… a member of government dies, if his casket is on display in a government building – including the Capitol – he lies in state. If his casket is in any other building, he lies in repose. If the person is not a member of government, he lies in honour."
If we want to make funerals a part of tourism in Ghana as is being advocated by Elizabeth Ohene, we must get the grammar right, "Lie-in-state" or "lying-in-state" is an idiomatic expression which is not subject to the grammatical rules or the general thinking that the dead body does not lie on its own, but is laid by some people.
An epitaph on King Charles II's tomb written by John Wilmot reads: "Here lies a great and mighty King whose promise none relies on. He never said a foolish thing nor ever did a wise one."
The principal parts of "lie" (Intransitive) are "lie" (Present Tense); "lay" (Past tense); "has lain (Present Perfect Tense) "lying" (Continuous Tense) "will/shall lie" (Future Tense). This should not be confused with "lay" (transitive) whose principal parts are: "lay" (present tense); "laid" (past tense); " has laid" (present perfect tense) "laying" (Continuous Tense); " will lay" (Future Tense).
The entry in Merriam Webster is: "Definition of lie in state: of the body of a famous leader: displayed in a coffin in a public place so that people can view it and show respect." A report in the Daily Graphic of December 14, 2013, stated: "Hundreds of South Africans pushed through police line in a last-ditch bid to view the late Nelson Mandela's body lying in state in the Capital, Pretoria. They were hoping to be the last of some 50,000 people to pass through the Union Buildings last Friday, where the former President's body has lain." CORRECT for three points.
In the Vatican, a deceased Pope, by custom, lies in state in the Chapel of the Apostolic Palace. After the Mass of Visitation, the body is moved to the Basilica.
At the Queen-mother's lying in state in 2002, in the United Kingdom, the guard was mounted by her four grandsons: the Prince of Wales, the Duke of York, the Earl of Wessex and Viscount Linley. One may care to note that, in the U.S., regulation and custom dictate that only presidents, military commanders, Justices of the Supreme Court, and members of Congress are given the honour of lying in state. The body lies in state in the Capitol in Washington with guards of honour representing each branch of the U.S. Armed Forces.
In the other states, a dead body may lie in repose in the Rotunda. This is similar to Canada where the official lying in state is part of a state funeral, held in the Center Block of Parliament Hill in Ottawa, the capital. In Russia, the lying in state at the red square ends with the interment in the House of Parliament. Important persons in Ghana pass the test of lying in state, especially at the Forecourt of Parliament House, Accra. The body of a poor farmer at 'Hweehwee' can, at best, lie in honour, in a small corner in a decrepit house, because he also deserves an honour, even if he cannot lie in state.
From Africanus Owusu-Ansah