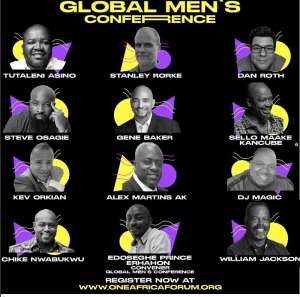 The Global Men's Conference was a conference developed by Edoseghe Prince Erhahon creator of One Africa Forum (https://oneafricaforum.org) based in Johannesburg, South Africa.
The goal was to address the issues that directly affected men and contributed to suicide, depression, mental health and physical, emotional traumas.
Attended by several thousand men virtually and globally, providing a platform where men can share their challenges as men, as parents, how racism affects men of color and culture, the financial stresses of providing for families, dealing with the pandemic and death, and the health challenges of cancer, diabetes, high blood pressure and even violence against men of color on a global level.
Statistics by World Health Organization shows that a man dies by suicide every 40 seconds, childhood trauma is not just the result of being abused and men are less likely to get help or asked if they need help.
The 16 hours of the conference allow for men from developing and under-developed nations to speak to each other virtually and support their needs through resources, counseling, collaborations and aligning with governments to make access to mental health for men easier. This is true global works where "iron sharpens iron."
The 17 Sustainable Development Goals (SDG's) shows a universal call to action to end poverty, protect the planet, and ensure that by 2030 all people enjoy peace and prosperity. The 17 SDGs are integrated with supporting men globally, they recognize that action in one area will affect outcomes in others, and the assistance to men and fathers means that communities can prosper and families can be sustainable and development must balance social, economic and environmental sustainability.
As stated by Mr. Erhahon, "The aim of the conference is to encourage men to come to the table and have a conversation among themselves and help each other navigate through life together by sharing lived or learned experiences in order to inspire men to become the best versions of themselves any day. We are concerned about the alarming rate of suicide, depression, mental health and trauma, violence and other toxicities exhibited in men globally. So this conference is bringing men together from all over the world to discuss these issues, find solutions together and help men mentor other men in order to ultimately keep our women and children safter."
The Global Men's Conference with Erhahon and Jackson and others is just one of the many virtual global conferences they have worked together on. Since July 2021 Mr. Erhahon and Mr. Jackson and Aida Correa-Jackson have collaborated on a Youth Leadership Conference, Ghana Leadership Development Summit, Master Blogging Classes for youth, teens and young adults and planned other events for the future. William and Aida Jackson are educators of STEAM Education and Learning and both higher education Professors. William is a Professor with Florida State College of Jacksonville and Aida is a Professor with Lenoir-Rhyne University. They are dedicated to sharing their knowledge, skills and talents in building Africa and the globe into a better place with their interns Zakaria laajily and Yousra Mounib of Morocco.
More information can be accessed from the web site: https://oneafricaforum.com/