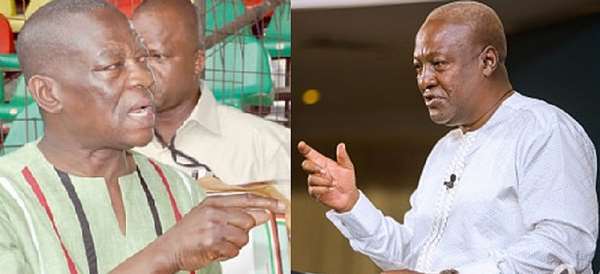 Former NDC National Organizer, Yaw Boateng Gyan has lambasted critics labeling him as anti-Mahama.
According to him, the former President sponsored Kofi Adams to kick him out as National Youth Organiser of the NDC.
For this reason, he said any critic in his/her right senses should not blame him if he decides to hit back at the former President who he claims surrounded himself with 'small boys' in the party.
"What kind of intimidation is this? Why do some people who joined the party along the way want to push us out?...we have suffered for the establishment of the party and nobody can drive me away. If I am anti-JM and so what? Have they investigated to find out if JM is pro-Yaw Gyan?"
"….we are losing quality leaders in the party and so if he [Duffuor] has decided to come to sacrifice himself for the party and save the party, what is wrong with it? We have reduced political activism to youthful exuberance. We are just toying with governance," Yaw Boateng Gyan said in an interview on Okay FM.
Lambasting a section of the media for making the claim that he is anti-Mahama, Yaw Boateng Gyan argues that if that was the case he would not have insisted the ex-president went unopposed in previous primaries.
He goes on to rubbish claim of a feud between himself and John Dramani Mahama, insisting that he is unaware if he has wronged him in any way.
"When Prof Mills died, I was one of those who insisted that Mahama must go unopposed in Kumasi and after he became the President, he sponsored Kofi Adams to kick me out of my position when I was contesting for re-election. People said it at that time but I didn't believe it but now I believe it due to what is happening. There is this speculation that Mahama and I are not on good terms but I don't know what I have done to wrong him," he said.
The alleged feud between Yaw Boateng Gyan and ex-president Mahama has been fueled after the former NDC National Organiser vowed to campaign for Dr. Kwabena Duffuor if he declares his intention to contest for the flagbearer position in the party's next primaries.