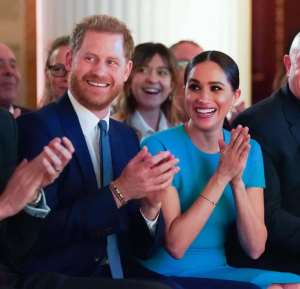 Prince Harry and Duchess Meghan are overjoyed ...they are expecting another baby. The British royals are also delighted.
Duchess Meghan is pregnant again. Prince Harry and his wife are expecting their second child. These details are known so far. It is the most beautiful news of the day! Duchess Meghan and Prince Harry are expecting another baby. The pregnancy was announced via her spokesperson on Valentine's Day of all days.
The statement says: "We can confirm that Archie is going to be a big brother. The Duke and Duchess are overjoyed to be expecting their second child." A photo shows the royal couple in the garden, with Duchess Meghan gently stroking her baby bump. The picture was taken by photographer friend Misan Harriman.
So Archie will soon be a big brother and Queen Elizabeth a great-grandmother again. The date of birth is not yet known, but it can be assumed that the former actress is already three months along. So the child will probably be born before the summer.
It has long been rumored that the 39-year-old is carrying a child under her heart again. The reason: The trial with the "Mail on Sunday", in which Duchess Meghan is to appear as an assessor, was postponed in October by exactly nine months. The trial was supposed to take place on 11 January 2021 but has now been set for 15 October 2021.
Baby luck after miscarriage
Possibly the Californian preferred to spare herself the emotional stress of a trial during pregnancy. For good reason. Because in 2020, Duchess Meghan had a miscarriage. In the "New York Times", the former actress wrote openly about her loss. Rarely has a member of the British royals been so honest, talking about the subject.
"After I changed his [Archie's] nappy, I felt a sharp cramp. I dropped to the floor with him in my arms and hummed a lullaby to keep us both calm. The happy tune was a stark contrast to my feeling that something was wrong," Duchess Meghan revealed.
"I knew as I clutched my first-born child that I was losing my second," the Californian reported. "Hours later, I was lying in a hospital bed holding my husband's hand. I felt the moisture of his palm and kissed his knuckles, wet from both our tears, staring at the cold white of the walls, my eyes glazed over."
At the time, her letter ended confidently. "Are we all right?" she asked at the end, replying, "We will be." And maybe the new baby can help dry her tears.
Francis Tawiah (Duisburg - Germany)