Noguchi Memorial Alleged to be Falsifying Covid-19 Test Results fora Fee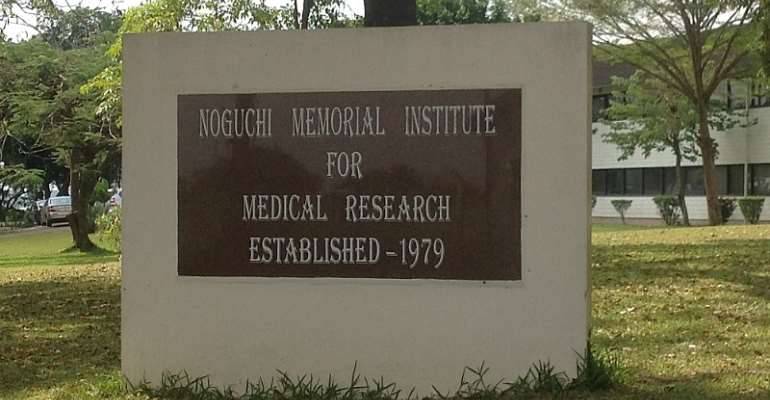 There is an allegation going viral on the social media against the Noguchi Memorial Institute for Medical Research at the University of Ghana. It is all about one of their staff members or operatives collecting a bribe of Ghc500.00 to falsify a Covid-19 test result to facilitate the travelling of one Mr Kofi Acheampong from Ghana to the United Kingdom, aboard a British Airways flight, on the night of Tuesday, 12 January 2021.
Mr Acheampong, a Ghanaian residing in the United Kingdom, had travelled to Ghana on holiday. When he was due to travel back to the UK, he was informed by his travel airline, the British Airways (BA), to have a COVID-19 PCR Test for Travel without which he could not be admitted on board the BA aircraft. Surely, the test result must be NEGATIVE, indicating he is not infected with the Covid-19 virus or else, he would not be allowed to travel back to London aboard the BA flight.
From his audio narratives as posted on the social media, principally, on WhatsApp, and supported by documental evidence, he went to the Noguchi Memorial Institute for Medical Research at the University of Ghana, Legon-Accra, on Sunday, 10 January 2021, to have the test done.
The test was conducted by the procedure of COVID-19 PCR Test, thus, virus swab test. "This test looks for the genetic code (RNA) of the virus. The test involves taking a swab of the throat and nose. The test will confirm if an individual who is showing symptoms of the virus currently has it. It will not confirm whether they have had it and have now recovered".
When he went back on Tuesday, 12 January 2021, to collect his test result, it turned out to be POSITIVE. However, he was scheduled to travel out of Ghana the night of same day aboard the BA flight he has booked a return ticket. As many countries currently require a NEGATIVE PCR test be provided on arrival, it meant Mr Acheampong could not travel that night.
Sullen as he was, thinking about how best to notify the British Airways about his plight of inability to travel out of Ghana that night, owing to his Covid-19 positive test result, he surprisingly unexpectedly had a phone call from someone from Noguchi requesting him to come back to the Centre to see him if he really wanted to travel that night.
When he went back to the Centre, he was asked to pay a fee of Ghc500.00 upon which he was re-issued a PCR Certificate for Travel / Fit-to-Fly Certificate indicating his Covid-19 test result as NEGATIVE.
Mr Acheampong knowing he had colluded to breach the strict ongoing international protocols in regards of Covid-19 pandemic to contain the spread of the infection, quickly went for a PCR test as soon as he arrived in the UK on Wednesday, 13 January 2021. The next day, Thursday, 14 January 2021, the result came out as NEGATIVE.
Let me pause to emphasize that the PCR test, whether for travel or to ensure that you have not contracted Covid-19, looks for the presence of the COVID-19 virus on a swab taken from your throat. It is a very accurate test and will be able to confirm whether you are actively infected with the virus.
Now, among some of the critical questions to be asked are the following:
1. Is the Noguchi Memorial Institute for Medical Research as reputable as the whole nation has been made to believe, and if yes, why are they altering test results in what amounts to corruption and bribery, if Mr Acheampong's allegation is anything to go by?
2. For how long have they been involved in that fraudulent behaviour, causing some travellers to miss their flights, forcing them into needless quarantine or allowing them to travel, associate with people and infect them with the deadly Covid-19 virus?
3. Do the doctors, nurses and or operatives at Noguchi know that it is a criminal offence to doctor any blood, virus, etc. test results for any reason, especially in the case of one actually testing positive to Covid-19 to negative or the vice versa? The adverse impact on the victim(s) and society could be grave in the event of maliciously changing a positive test to deadly Covid-19 to negative as it is in the case of Mr Kofi Acheampong.
4. How many people have unknowingly been infected both in Ghana, especially at the Kotoka International airport, and on the BA aircraft by Kofi Acheampong, if he was actually tested positive to Covid-19, making him a walking Covid-19 infection or carrier?
5. Are both Noguchi and Acheampong not culpable for anyone getting infected with Covid-19 by the collusive offence they committed to pave way for Acheampong to travel abroad on BA aircraft, if indeed, he was an active sufferer or carrier of the deadly Covid-19 virus?
6. Should the BA or the UK government get to know this, do Noguchi and Acheampong know that they can be sued for breaching their strict Covid-19 pandemic protocols?
7. Why did Kofi Acheampong not post a copy of the NEGATIVE test result re-issued to him by the accomplice at the Noguchi Memorial Institute for Medical Research to make his evidence complete and more credible? Is he trying to hide the identity of the culprit since the signature on the certificate could easily give the person away?
The questions can go on and on. Nonetheless, if Acheampong was not actually tested positive to the virus while he went to Noguchi but for corruption reasons he was made to appear as though he was infected, as probably confirmed by the second test he took when he arrived in the UK, he could sue Noguchi for breach of trust and for causing him needless stress.
Another test called "Antibody Testing" could be used to detect antibodies to the COVID-19 virus to see if it's likely that he has had the virus before.
"A positive result to COVID-19 antibody test will mean the test did detect COVID-19 coronavirus antibodies so it is likely you've had coronavirus before (even if you can't recall having symptoms). It is not possible to say when. It does not mean you are guaranteed to be immune (protected) from further infection". The antibody test works by taking a blood sample and testing for the presence of antibodies to see if you have developed an immune response to the virus.
Once you contract any virus as it is with Covid-19 or any other infectious disease and finally get healed, it leaves antibodies in your system, I should believe, although a layperson in the medical profession. Therefore, if Kofi Acheampong had tested positive to Covid-19 but only to test negative to it three days later while in the UK, antibody testing could prove it.
The onus is now upon Noguchi to redeem its image by getting in touch with Acheampong, the accuser, to help them identify whoever took money from him to alter the result from positive to negative to pave smooth way for him to travel to London aboard BA flight on the night of Tuesday, 12 January 2021, when he was supposed to be in quarantine.
The corrupt practices within Ghana institutions making them look weaker in the eyes of, and scorned by, many a discerning Ghanaian, must not be tolerated.
This reported incident is a blot on the image of Noguchi Memorial Institute for Medical Research so they had better do whatever it takes to find out the bad nuts within them to weed them out. And, should it be their standing dubious practice to make money for the institution and themselves, they had better stop since it has the potential to dent their hard earned credibility beyond repair.
Rockson Adofo
Sunday, 17 January 2021