A Destructive Deluge Again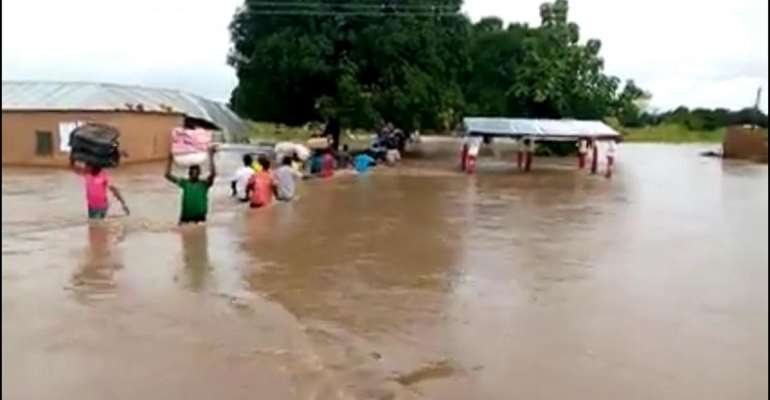 Accra is a city that cannot withstand two hours of continuous downpour. Even an hour of rainfall leaves in its wake destruction of property and even threat to lives.
On Saturday the deluge which visited the nation's capital and parts of the Central Region was destructive and although without casualties it could have been worse.
A city which is unable to contain two hours of torrential downpour and accompanying flooding is suggestive of something wrong with either its planning or attitude of the people.
We have continued to ignore warnings about the fallouts from dumping refuse in our drains, an anomaly which is fast becoming a norm in some parts of the national capital. Nobody would even complain to their neighbours when they are spotted engaged in the practice.
Construction on waterways is no longer anathema as building inspectors and related staff turn their attention away from such infractions.
Environmental indiscipline appears to have become so much entrenched that it can be concluded that the authorities who are responsible for whipping us into line have given up hope of succeeding in their task.
The face of angry rainwater meandering along the city's streets and other parts, infuriated as it were by human obstruction, is always visible when it rains as it did on Saturday.
Unfortunately victims are quick to blame government when nature descends upon them the way it did last Saturday. Maybe they are right because the relevant state agencies should have cracked the whip on those who build on waterways or even dump refuse in gutters and other forms of drainage.
In our country cracking the whip is difficult to do and so we could be living with destructive floods for some time to come. But for how long can we continue to live like this when clearly the factors accounting for the floods are known to us?
The fact of environmental indiscipline being one of the factors accounting for the floods in our nation's capital, notwithstanding, the authorities must ensure that the necessary engineering adjustments are carried out as soon as possible in some parts of the city. This is so because there are instances where clearly the cause of some floods is attributable to poor infrastructural designs.
We should also not lose sight of the effect of climate change, which is what we are experiencing nearly globally today.
Burkina Faso, Ghana, Nigeria and Sudan have all had their share of flooding these past few months and for us in this country the situation is bizarre.
The peak of the raining season is long gone. We should have been experiencing a lesser raining season without the kind of intensity we experienced on Saturday.
Torrential downpour this mighty, even in the northern regions of the country, is amazing and suggests that something has changed in the order of nature.
We should all as citizens join the rest of the world in tackling climate change by learning about it and doing what it takes to reverse the anomaly.
---Daily Guide