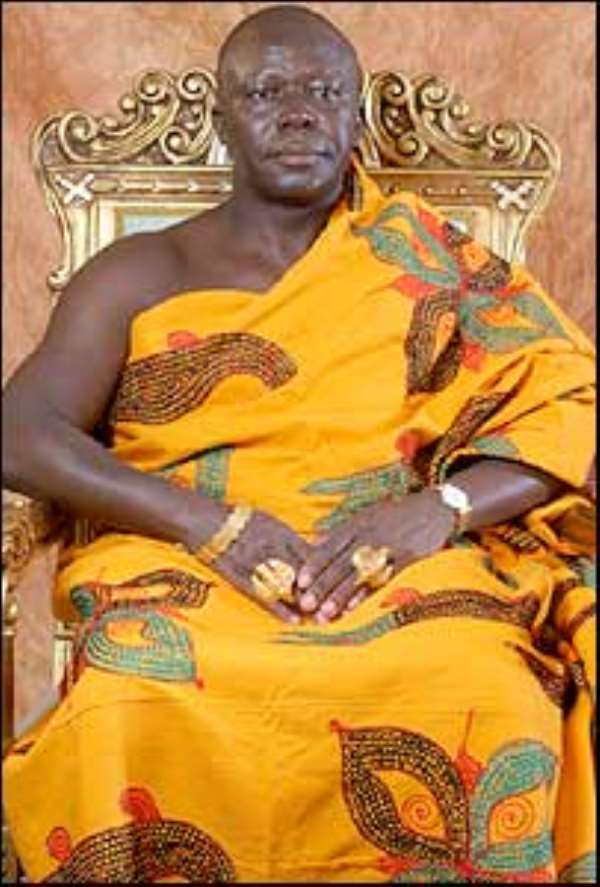 A KUMASI-based legal practitioner, Mr. Kwame Arhin, has embarked on a crusade against what he describes as anti-Ashanti feelings by a section of the populace, asking Ghanaians not to toy with the Asante Monarchy.
He said the status of the Asantehene is unique and that by referring to him as chief instead of a king tended to take away some of his powers. "That is malicious, spiteful, ill will and derogatory".
"On the ground, he is a powerful monarch," he said, and asked that one exercises decorum when dealing with the Golden Stool.
"We (Ghanaians) are lucky to have a great monarchy in our midst and we don't have to toy with it," he cautioned a meeting of journalists in Kumasi on Friday during which he reacted to alleged anti-Asante feelings among a section of the populace and the media.
Lawyer Arhin expressed concern about attacks on the personality of the Asantehene saying the King of Asante is not comparable to any other chief in the land.
The reference to the Asantehene as chief is unfair, he said, pointing out that he is a titular head of a homogenous state, which constitutes a nation of people with one language and culture having the powers to create paramountcies without question.
He said the relationship of the Asantehene with his paramount chiefs is not a matter of first among equals, but seen as an overlord exercising absolute power over them.
According to him, those who share the view that the Asantehene is just an ordinary chief are either ignorant of the unique Asante constitutional arrangement or are deliberately refusing to acknowledge the special position of the Asantehene in contemporary Ghana.
He stressed the need to revolutionalize the chieftaincy institution to depart from the perception of the colonial masters who commonly used 'chief' as an adjective to qualify a noun, citing Chief Inspector, Chief Commissioner and Chief Driver as examples.
Lawyer Arhin declared, "Asantehene is a King", and warned that such derogatory descriptions by a section of the media must stop.
He referred to the Chieftaincy Act 370 of 1971, which clearly stated that the position of Asantehene transcends regional boundaries.
Referring to media reports that the Regional Minister could impose a curfew to compel the Asantehene to comply with it, Lawyer Arhin said a regional Minister as the political head could not compare himself to the Asantehene, saying a regional Minister who does not keep a proper rapport with the Asantehene did so at his own risk.
"The Regional Minister exists on the goodwill of the Asantehene".
Lawyer Arhin explained that Ashanti constitutes a nation and that the attainment of a Republican status does not take that away.
"Ashanti better qualifies as a nation," lawyer Arhin, one time Student in Law with History at the University of Ghana, Legon, said.