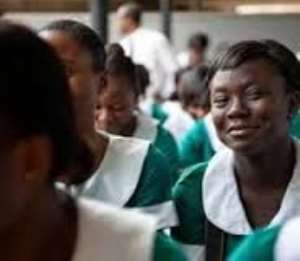 The Ghana Registered Nurses and Midwives Association (GRNMA) embarked on a nation-wide strike on Monday (9/21/20) to push the Government (Employer) to accept and implement their demands. Reports indicated that "they are to give us 15% of our basic salary, a rent of 25%, uniform allowance of 10% and professional development allowance of 25%," an executive member said.
It is no wonder that their Employer "kicked against all these proposals they say they are not going to pay it." No sensible employer worth his salt would accept these demands. The timing also made both the demands and the strike action very suspicious. Elections would be in December, some two months away and Nurses who had been "pampered" by their Employer as a result of the pandemic, Covid-19, would come out with these outrageous demands.
The nature of their demands is such that they were born out of mischief - intended to bring down the government. If they were met, it would set in motion a spiral effect. Teachers, led by the loquacious NAGRAT, would demand their "pound of flesh" in December.
They would be followed by the Ghana Medical Association (GMA) and University Teachers' Association of Ghana (UTAG) while the National Union of Ghana Students (NUGS) would be in the streets calling for their teachers to be in the classrooms. Others would also follow up
In almost all cases, when workers embark on strike action they were supported by the general public based on their demands - poor conditions of service, non payment of salaries for a given period, discrimination, harassment (verbal or sexual) and some others. In this case the GRNMA had not demonstrated good faith to garner public support.
Requests for salary increase would be argued on grounds of inflation. Inflation just moved from some 7% to 10.6% so that if they wanted a salary increase it should be for some 3.6% not the arbitrary 15%. This is an indication that they just sat down, cooked some figures and wanted their Employer to pay.
What justification did they provide for the figures given: 15% of our basic salary, a rent of 25%, uniform allowance of 10% and professional development allowance of 25%. How did GRNMA arrive at these figures at this pandemic period? GRNMA you were just being insensitive and ungrateful.
If GRNMA would not negotiate and would deny being served court injunction papers, their Employer should leave them alone. Sometimes if you became too strong you lived to regret. In their stead the following should be engaged - healthcare professionals who have completed their National Service assignments and are waiting to be employed, National Service personnel, NABCO personnel, students and retirees.
GRNMAshould be informed that on August 5, 1981, President Ronald Reagan of the US fired more than 11,000 air traffic controllers who had ignored his order to return to work. The sweeping mass firing of federal employees slowed commercial air travel, but it did not cripple the system as the strikers had forecast. Air freight remained virtually unaffected.
In carrying out his threat, Reagan also imposed a lifetime ban on rehiring the strikers. In October 1981, the Federal Labor Relations Authority decertified the Professional Air Traffic Controllers Organization (PATCO). The 1981 strike and defeat of PATCO has been described as "one of the most important events" in late 20thcentury US labor history. "When the president said no ... American business leaders were given a lesson in managerial leadership that they could not and did not ignore.
This reference in labor history is to forewarn GRNMA that they should not test Nana Addo's and for that matter any employer's resolve. When push comes to shove Nana Addo could be worse. "One thing ppl gotta understand about extremely kind, nice, loving people is that their other side is just as EXTREME," apologies to Sylvester Ofori, who fatally shot his wife in Florida, US.
OPANIN KWABENA MENSAH