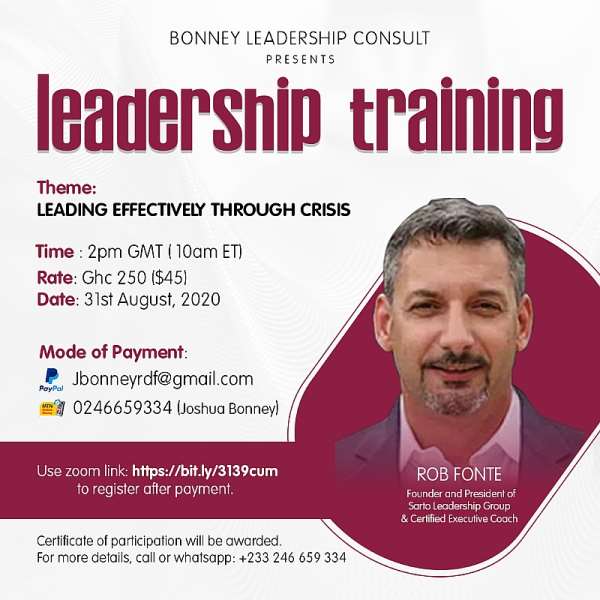 Leadership training is extremely important for every business. While the people who lead companies may have the educational background and work experience that is required, they may not have the skills that are needed to properly lead the business, guide employees, or become successful.
Leading a company requires the leader to be equipped with crisis management skills because crises occur when we're least expecting them, and often test the leaders whose offices have been impacted. Whether your company is undergoing a financial emergency or high labor turnover, it's up to you to demonstrate excellent crisis leadership skills and keep your team afloat.
When faced with a crisis, most leaders are forced to think and behave in ways that feel unfamiliar. The strategies that the leader adopts during this period will either affect the organization positively or negatively.
Bonney Leadership Consult is organizing a leadership training on zoom on the 31st August, 2020 with Rob Fonte on the topic: leading effectively through crisis at a fee of Ghc 250 ($45).
Rob Fonte is the founder and President of Sarto Leadership Group, as well as the host of the Leadership Jam Session Podcast. Rob's reputation has been built on being a transformational leader and inspirational coach with a passion for developing others. His twenty-year career spans across multiple disciplines including leading award-winning sales teams. Rob is an academically trained Executive Coach certified by The University of Texas and the International Coach Federation.
Follow the link to register https://bit.ly/3139cum