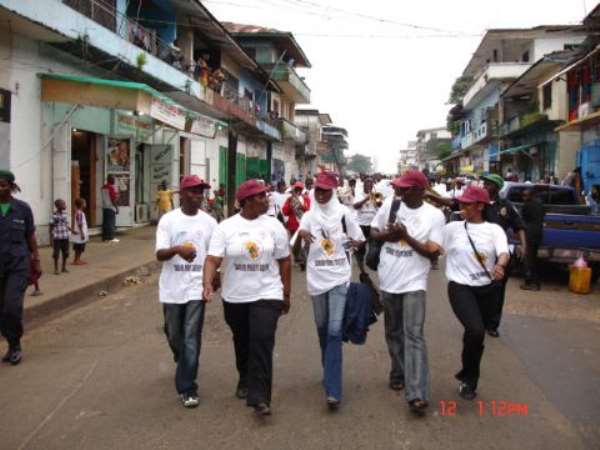 The United Nations General Assembly on 17 December 1999 in its resolution 54/120 endorsed the recommendation made by the World Conference of Ministers Responsible for Youth (Lisbon, 8-12 August 1998) that 12 August declared International Youth Day. The Assembly recommended that public information activities be organized to support the Day as a way to promote better awareness of the World Programme of Action for Youth to the Year 2000 and Beyond, adopted by the General Assembly in 1995 (resolution 50/81).
This formed the basis for the International youth day celebrations; the Theme for 2006 is "Tackling poverty together" that is, looking critically at bridging the intergenerational gap in problem solving situations.Youth Action Movement Ghana joined other West African Anglophone delegates to celebrate the day in Monrovia, Liberia's capital. This was possible because of a competition by the International Planned Parenthood federation Africa region which the sub-region won.
The pre-launching activities included an outreach interactive programme with some young people and adults in West point community in Liberia about Sexual reproductive health and issues that bring poverty. This community was chosen because of it's high rates of commercial sex work, teenage pregnancy and HIV infections. Radio discussions were also held prior to the launching to ask for support for young people on the streets. This same outreach program was also organized in Waterloo as part of the sub-region's pre-international day activities.
The international youth day celebrations which was 12th August 2006 was characterized by a float through the principal streets of Monrovia by Youth action Movement members from Monrovia, and delegates from Ghana, Gambia, Nigeria and Sierra Leone. This was followed but the main launch.
Present were the Vice President of Liberia, the Minister for Youth and Sports, UNV representatives among others. The Vice President and other partners present including the YAM country delegates did not fail to out line the challenges Liberia had faced during the past years. But commitments were made to support young people and empowering them to become an integral part of the nations development.
Follow-up activities have been planned to provide support for skill training for the identified young people during the outreach program