Ontario Ramping Up COVID-19 Test For All Residents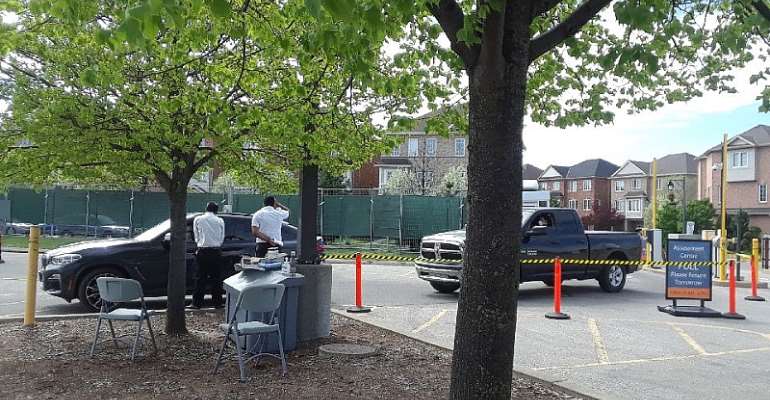 The Provincial Government of Ontario in Canada is ramping up Covid-19 tests in all regions, cities, and communities in the Province of Ontario.
As a result, more drive through Covid-19 assessment testing centers has been opened up across the province for people to voluntarily get tested for the novel coronavirus.
These became evident when this reporter went for his COVID-19 test at Woodbine Center in Etobicoke City, Toronto on May 27, 2020.
The fleet of cars was parked at Woodbine Center near Queens Plate Drive adjacent Humber College as tens of people queue in their cars to get their drive through the COVID-19 assessment test conducted as quickly as possible.
According to Ontario Health officials, about 300 Covid-19 drives through assessment testing centers across the province are to offer everyone the opportunity to get tested to know their health status as the battle for the Covid-19 rages on.
The Covid-19 drives through assessment testing centers are again to quickly identify, trace, and isolate the infected patients for treatment to be able to flatten the curve.
Drive through the COVID-19 assessment testing center programme is a major effort by the Ontario government to fight the pandemic as more people are voluntarily getting tested for COVID-19 in the Ontario Province of Canada.
Meanwhile, picnic parks, basketball courts, playing parks, retail outlets with the street in front of them have been opened in the city of Toronto.
However, commuters on public Toronto Transit Commission [TTC] buses are advised to wear nose masks or face shields to either avoid spreading the virus or getting infected with the virus.
Photo report:
Drives Through Assessment Center.
Voluntary testing at the tent
Fleet of cars parked at the center.
Voluntary testing
Resident parks open.
Basketball courts/playgrounds opened.