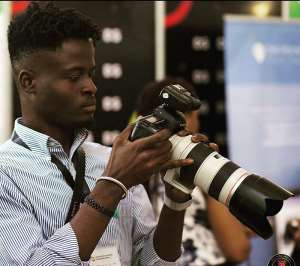 Mel Arthur Creative Designer
Please, stay at home, wash your hands, wear a facemask and most importantly, think about safety.
As social distancing and stay at home movements grow, Ghanaians take action to be safe during the global pandemic. In the first installment of "What are you doing?" I will be interviewing various Ghanaian entrepreneurs, business people and influencers regarding what they are doing during this phase of the global crisis.
Today's person of interest is Mel Arthur. Creative director of Mel Arthur Photography Mel is an international photographer who works primarily in Ghana. His works span from fashion, events, and creativity through to art. In addition to Ghana, Mel has done notable work in Nigeria where he contributed photos from Heineken, Lagos Fashion and Design Week 2018, streetstyle to GQ. Mel expresses himself through photography. His Debut exhibition "ny3 k3 w0" sees Mel take inspiration from the women in his family who raised him.
Questions*
1. Where were you when you heard the lockdown ended?
I was at home in Accra with my family when the president of Ghana addressed the nation on television and announced a lift on the partial lockdown.
2. What was your first thought when increased emphasis was placed on social distancing?
Personally, I had started practicing social distancing ever since I heard of the pandemic; you could easily get in contact with the virus through an infected person without even knowing. I had just returned from Lagos, a trip to set the way for my next photography exhibition. But all this also meant a different way of life, more online platforms to host enough conversations and you could achieve tasks. Team stay at home, It was all about safety first for me and my family.
3. Describe one thing that the COVID-19 pandemic has ruined that you were looking forward to.
Photo shoots or events I cover were cancelled but it ruined my chance to host my second exhibition in Lagos. I was really hoping to have that exhibition ending in March, I can't wait for it to be safer to go out and have events.
4. Name some top items you had to stock.
Some of the top items I had to stock include;
water
some of my favorite foodstuff, eg. Rice, Cereal, Plantain.
I also had to stock up some stew
Internet bundle
Electricity due to the prepaid system we use
5. If you had the chance to work with one celebrity, who would it be. And why?
Gabriel Abeiku Ansah, My personal celebrity.
6. What are you hoping to accomplish or learn during this stay home period?
I hope to improve my reading habits and spend more time with family. Aside that i am using this period to strengthen my online communication skills and making the best of being home. Finish things i had started.
7. What is the first thing you plan to do when the pandemic is over?
First thing, I will definitely shoot new concepts i have discovered during this period. Capture more memories, go back to exlporing the world one photo at a time. I also plan to announce and conduct my next photography exhibition. It was initially set to happen in March. I'm considering new dates.
If you know anyone who including yourself would like to be interviewed contact Rashad McCrorey on Twitter and tweet (not DM) but tweet him at www.twitter.com/Rashad_McCrorey . To learn more about Rashad McCrorey follow him on Instagram at www.Instagram.com/Rashad_McCrorey