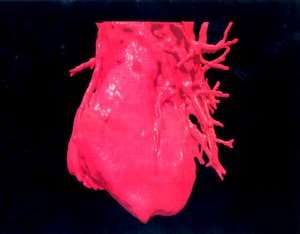 Doctors have performed the UK's first beating heart transplant and say they hope the procedure will "revolutionise" the way transplants are carried out.
Professor Bruce Rosengard, from Papworth Hospital in Cambridge, led the team that transferred a beating heart into a 58-year-old man, who does not wish to be named.
The operation, which has only been performed twice before in Germany, relies on the heart being kept warm and beating outside of the body prior to transplant.
Until now, removed organs have had to be placed on ice and transferred to the recipient within four to six hours, risking deterioration.
But the new technology, called the TransMedics Organ Care System, developed in Boston, US, means organs for transplant can now "live" for longer, and can travel further.
Professor Rosengard said that organs are traditionally cut from the body, submerged in a high potassium solution and then put in an "igloo" to be transported.
Now the heart is cut from the donor using the potassium solution, placed in a basin of cold saline, and then connected to the machine along with some of the donor's blood.
The organ is maintained at slightly below body temperature, around 34 to 35 degrees centigrade, in order to reduce stress on it.
The beating heart can then be moved around the UK to wherever the recipient is waiting.
Dr Rosengard said: "The whole process of taking the heart out and preparing it takes up to 20 minutes."