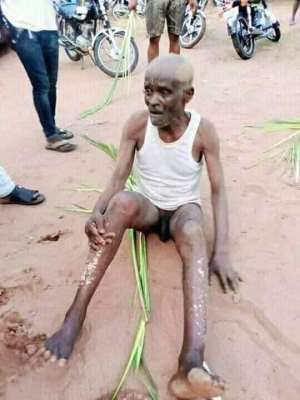 The Advocacy for Alleged Witches (AFAW) condemns in very strong terms the torture and maltreatment of an elderly man for stealing the destinies of people in Imo state. In a photo that has been circulating on social media, an elderly man could be seen sitting on the ground and pleading for his life.
He was surrounded by a lynch mob. Some angry youths could be seen holding palm leaves, the type that is used for rituals or to magically subdue or kill suspected occult individuals. Overwhelming economic difficulties, poverty, and lack of jobs have made some people think that their destinies have been stolen by others.
Alleged destiny-thieves are usually elderly men and women. The belief is that these adjudged evil persons in the communities throw the destinies of people into the forests, into rivers or oceans. Some are of the view that they tie the talents of individuals to trees making it impossible for young people to make progress in their lives. Christian evangelists fuel these narratives. They use these suppositions to make sense of lack of progress and existential uncertainties in the communities. Against the backdrop of hardships and severe economic difficulties occasioned by the coronavirus pandemic, Christian pastors and other religious experts are marketing narratives and instigate the hunts for those who have stolen or are withholding others' destinies.
AFAW is of the position that people, young or elderly, cannot magically steal, seize, or withhold the destinies of others because there is no evidence for such actions. Pastors or religious persons who make such imputations are charlatans and con artists and should be arrested and prosecuted for inciting violence in communities. Persecution of persons for magically stealing destinies is a form of horrific absurdity and a gross violation of human rights. Those who perpetrate these abuses should be brought to book.
AFAW calls on the government of Imo state to confirm the identity and eventual fate of the man (in the photo) accused of stealing the destiny of others. The government should investigate this case of persecution of a destiny-thief and ensure that the perpetrators are brought to justice.
AFAW urges the government to call to order pastors, evangelists, prophets, and other peddlers of the superstitious and religious mumbo jumbo. The government should take measures to stop these witch/demon hunters from spreading these narratives that incite hatred and violence in communities.
AFAW appeals to both governmental and non-governmental organizations to put in place public education campaigns that dispel occult fears and enlighten the people. The education campaign should include getting people to understand that nobody can magically destroy the destiny of others; that such beliefs are superstitions and not based on facts or reality. The imputation that people can magically steal or withhold others' destinies is mistaken, baseless, and irrational. Accusations of magically stealing or destroying people's destinies must stop. Persecution of alleged destiny-thieves is criminal and must end in Imo state and Nigeria
Leo Igwe directs AFAW. AFAW is NOT a witches' group but an advocacy campaign against witch and demon hunts in communities. Please notify AFAW of any actual or imminent case of witch/demon hunts in your community. Call or text: +2349039908664. Email [email protected]