March 23, 2009
|
General News
Lydia Forson for AMAA awards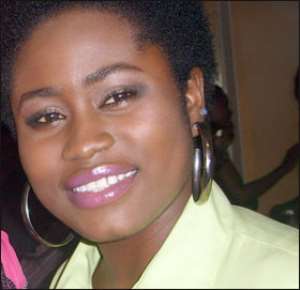 Lydia Forson Ghana's actresses, Nadia Buari and Lydia Forson and two of their male colleagues, Majid Michel and Ruffy Samuel, are expected to cause a stir in Nigeria at the upcoming African Movie Academy Award (AMAA), schedule for Bayelsa State on April 4.
The four, including some other stakeholders in Ghana's movie industry who are behind the movie 'Agony of the Christ' produced by Venus Films, have been nominated in different categories for this year's AMAA ceremony.
Nadia, who hit Ghana's silver screens in late 2005 via the TV series 'Games People Play', has been nominated for the Best Performance by an Actress in a Leading Role in the movie 'Agony of the Christ'.  
She is competing with hot actresses like Stephanie Okereke and Nse Etim in the movie 'Reloaded',  Stella Damasus-Aboderin – 'State of the Heart', Corine Onyango – 'From a Whisper' and     Funke Akindele – 'Jenifa'.  
Lydia Forson, whose group also looks very tight, was also nominated for the Most Promising Actress of the Year award for her role in 'Scorned' by Sparrow Productions.
Majid Michael on his part was nominated for the Best Actor based on the role he played in the movie 'Agony of the Christ'.  
Ruffy Samuel, the tall and dark afro actor, was also nominated for the Promising Actor of the Year for his role in the movie titled 'Death End'.
The rest of the nominations are AMAA Achievement In Art Direction, AMAA Achievement In Make-Up, AMAA Achievement In Visual Effect, AMAA Achievement In Costume, Best Original In Soundtrack, all going in favour of the movie 'Agony of the Christ'.
The group is expected to grab all the awards and you can trust BEATWAVES to keep you abreast of whatever happens.
By Francis Addo