Don't Sack Schwarzenegger Ken Agyapong Pleads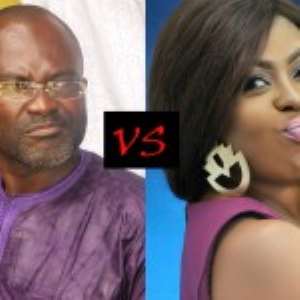 Kennedy Agyapong and Afia Schwarzenegger
The 'talk-of-town' exchange of insults between the Member of Parliament for Assin North, Kennedy Agyapong, and Okay FM presenter Valentina Agyeiwaa, aka Afia Schwarzenegger, has ended in an anticlimax with the MP pleading that the radio presenter should not be sacked from her job.
Kennedy, on Tuesday evening, called on the Despite Group of Companies, owners of Okay FM, to maintain Afia Schwarzenegger but advised that she should "not let anyone use her as a channel to insult others."
"I will urge Despite to let her (Afia Schwarzenegger) go and work. I know people won't agree but we are now doing the job of President Mahama and I would have compassion on her," Kennedy noted.
The forthright MP made the plea in a response to an official press statement issued by Okay FM apologising for the unfortunate exchanges between their presenter and the politician.
There are speculations that Afia Schwarzenegger has been sacked from Okay FM but management of the station has told NEWS-ONE "she is still a member of the Despite Group and host of 'Ye Wo Krom' on Okay FM as well as 'Kokooko' on UTV. No one has sacked her from either Okay FM or UTV."
Afia Schwarzenegger's mid-morning show, 'Ye Wo Krom', was not aired on Monday and this heightened speculations that she had been fired but NEWS-ONE gathered that 'Ye Wo Krom' would be off air for about three days for a review of the structure to make it more interesting.
According to the statement from Okay FM, "management deeply regrets the unfortunate recordings circulating on social media even though most of the audios were not recorded in our studios.
"The structure of the Despite Group of Companies is NOT to malign, denigrate, insult or condone and support acts of insults against personalities in society. Our business was built mainly to address social issues, to bridge the information gap and to serve as a platform for the exchange of ideas and generate discussions that will be of mutual benefit to our various publics and us."
.
The statement apologised to "the general public, Oman FM, Honourable Kennedy Agyapong and all other persons who may have been scandalised or have suffered in any way as a result of this incident."
MEDIA COMMISSION NOT HAPPY
The National Media Commission (NMC), Wednesday evening, issued a statement on the development. It strongly condemned the conduct of the two persons, describing their behaviour as an "outrageous breach of the standards of decency required in public electronic communication."
The statement signed by the NMC Chairman, Kwesi Gyan-Apenteng, said "the Commission would like to remind all operators of electronic communications networks that their freedom to carry content comes with responsibility. It is important to protect our freedoms and not take them for granted. We must therefore take strong steps to ensure that we do not allow a minority of people to destroy our freedom on the altar of parochial commercial, personal or partisan political interests. We particularly call on the Ghana Independent Broadcasters' Association (GIBA) to take steps to bring its members to order and to ensure that Ghanaians are fed with decent content."