Daddy Lumba: We Love You And Your Music, But This Bleaching Must Stop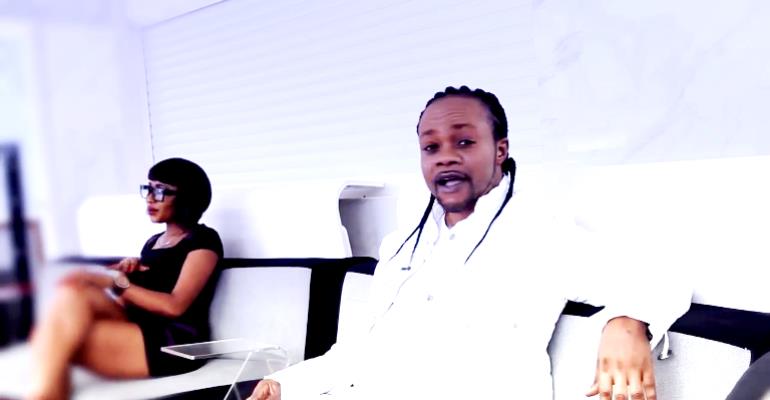 Few would contest the fact that Daddy Lumba born Charles KwadwoFosu is in the top three list of the greatest musicians to bear Ghanaian nationality together with music maestro Kojo Antwi and Iron Boy AmakyeDede.
Born some 50 years ago, the Nsuta native debuted on the highlife scene in the early 80's with his massive hit "Yeeye Aka Akwantuo Mu" with Nana Acheampong and has since gone on to offer several albums including Obi Ate MesoBuo, SikaAsem, OhiaAsem, Playboy, Sesee Wo Se, Odo Foforo, BiribiGyegye Wo, Back For Good, Mesom Jesus, Hwan Na Otene, Ebi Se Eye Aduro, Aben Wo Ha, AdepaHyeAdepa Mu, Poison, Mato Odo Mu, Bubra, Tokrom, Asee Ho, Odo Bewu Dee and Wo Ho Kyere.
Daddy Lumba (DL) has released over 25 albums as a songwriter, singer or producer. In 1999, he won three awards including best album and the most popular song of the year at the Ghana Music Awards.
Till date he remains one of few consistent hitmakers with offerings nearly every year. His unpredictable nature fuels his appeal, for Lumba is noted for his risqué lyrics and sensual music videos yet he offereda gospel album to wide acclaim.
For many years he was based in Cologne, Germany where together with his German sound engineer churned hits for his fans but whiles recently reviewing Lumba's videos, a curious observation unfolded.
Watching the Huhuuhu, AbenWo Ha, SeseeWose, BribiGyeGye Wu and Nea Wuhu Beto Wu aka Yent tie Obiaa videos one cannot help but notice the coloured knuckles of DL, a symptom of bleaching.
Every man has a few vices but why Lumba chooses to bleach beats the mind. He has tons of lady admirers who would gladly warm his bed even without enlightening his skin.
Perhaps just like Ama Boahemaa, the weather in Germany and his love for milk might have caused the toning. Perhaps his choice of soaps and creams caused the disparity in skin colour.
As at 1995 the effect of bleaching was visible even in his BribiGyeGye Wu video and a check on his hand in the recently released Yen Tie Obiaa did not help matters.
For whatever reason, popular figures in the entertainment industry and society have just gone from dark/moderate to lighter shades right under our noses despite their vehement protestations.
Ama Boahemaa, Yvonne Nelson, Jackie Appiah, Zynnelzuh, Nana AmaMcBrownand our own Daddy could be cited.
It needs no telling the harmful effects of skin bleaching and toning.Daddy, may I suggest shea butter to you. It has a high content of non-saponifiablefats and used by dermatologists to treat eczema, dry, wrinkled skin, burns, and rashes. It is an extremely good moisturizer penetrating the skin easily to restore elasticity as well.
It's also used as a natural sunscreen because of its Vitamin K content. Others use it to prevent and heal sunburn, scars, stretch marks, cold sores, and diaper rash.
We can't afford to have a repeat of the Michael Jackson scenario, we love you, your music but this bleaching/toning business ought to stop for your sake and ours.