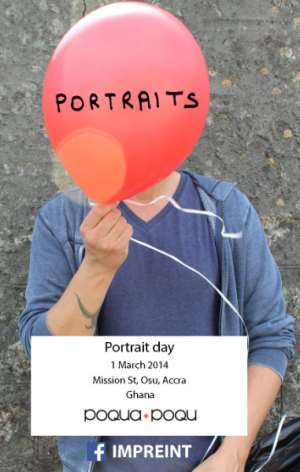 IMPREINT is a London based artist, who involves in his art the public directly. His last project called Portraits is a simple concept. Based on the idea to give the opportunity to everybody to participate in a simple way, he created the initiative to collect photos from the people around the world holding a balloon.
It's called Portraits, because with a balloon every scene looks a little bit different, and also the attitude of the person changes. It's not a simple photo anymore, it's a portrait, but with a common meaning, unified by a balloon. The project can arrive everywhere, even to places where they might not have a lot of opportunities, but they would like to do something that makes them feel better and gives them new prospective.
Portraits are an open project, everybody can join in and express themselves and find something that they can relate to. So did the Poqua Poqu, a Ghanaian ready- to- wear fashion brand for women located in the capital, Accra.
In anticipation of this event Poqua Poqu is looking forward to combing the streets of Accra, with a camera and a balloon in hand. This Brand is excited about portraits and can't wait to present the rich culture and amazing people of Ghana to the world.
https://www.facebook.com/IMPREINTofficial
https://www.facebook.com/poqua