Next Big Thing Winners Receive Prizes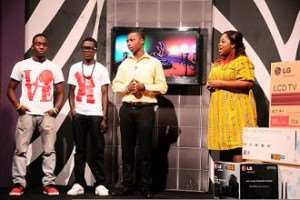 Last year, the search for the next big thang in gh hip hop a talent reality tv show which was organized by Ghone Entertainment Television Station to unearth an underground hip hop emcee saw many talented young emceeing auditioning for the maiden tv reality tv show.
After weeks of auditioning, only twelve underground emcees qualified for to contest for the title 'The Next Big Thang In Gh Hip Hop'.
The twelve emcees went through grooming and weekly performances and in the end only four emcees made it to the grand finale and they were Strongman, Magnificent, Tee-Phlow and Bebelino.
The grand finale which came off at the Osu Oxford Street saw a large crowd gathered in front Frankies Restaurant to witness the making of the next big thang in gh hip hop.
It was a keenly contested competition and after rounds of battling each other, Strongman who was the pubic favorite emerged the winner.
He won for himself the chance to perform on every show that will be organized by Ghone entertainment television, 5000 ghana cedis cash prize and products from the sponsors Somovosion Last Thursday, the four finalists Strongman, Magnificent, Tee-Phlow and Bebelino were presented with their prizes on E-talk an entertainment talk show on Ghone.
The winner Strongman took home a 46inch LG LCD plasma tv, the first runner up Tee-Phlow also had a 32inch LG LCD plasma tv and a huge home theater. The second runner up also had a 32inch LCD plasma tv whilst the third runner up had a home theater from the main sponsors Somovision.
The maiden edition of the next big thang in gh hip hop was indeed a good one, however this year's edition promises to be bigger and better.