Amsterdam-based Ghanaian rapper, Rudeboy Sho out with hit 'Up in the Party'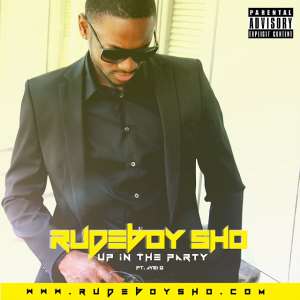 Netherland-based Ghanaian rapper Rudeboy Sho comes is out with another club banging hit 'Up in the Party'. The rapper who is rated as The Next Big Thing on the hiphop scene within the Ghanaian community in Amsterdam says the single is a feel good tune meant to thrill the party scenes in Europe and Ghana from now till the end of the year. Download : 'Up in the Party' -http://www.hulkshare.com/mbbjoq2scni8
Inspired by his time spent in Ghana, Rudeboy Sho plans to make his presence felt in the Ghanaian music and film sector, since he also has a passion for acting and script writing. Rudeboy, also known as Elvin Jamil, was born in Ghana and grew up in an army barracks. He's a proud product of Accra Academy, where he graduated in the year 2008. When he moved to the Netherlands, he started hosting different parties and soon become a fixture in the club and entertainment scene in South-East Amsterdam. Besides being an MC, Rudeboy's talent as a rapper and dancer soon became apparent when he made his debut performance at Ghana Most Beautiful Holland in 2009.
After having a successful year of MC'ing and rapping, he decided to take a break in 2010 only to resurface in 2011 when he begun to reminisce about the fun times he had when entertaining the crowd. It was clear to him that the reason he liked to MC and rap, was because he just loved doing it. He loved entertaining people and making people laugh. Full of energy and motivation, he started going to the studio to write and record songs in 2011. He currently has 3 songs namely 'Fallin' , 'Top of The World' and 'Blow', and still recording more.
He comments, "When it comes to MC'ing I'm different because I know how to relate with the party freaks; I'm one myself. And when it comes to rapping I rap from the heart, from the inspiration I get from life and from friends. So whenever I'm rapping on a beat, I try to entertain myself and my people."
Popularly known by many overseas as Ghana's very own Wizkid, Rude Sho says he intends to have a collaboration with Nigerian singer about making it from the ghetto into the limelight.
Also download: No Money No Love - http://www.hulkshare.com/330x4e72xv28
Check out Rudeboy Sho performing 'Up in the Party' in Mambo.