VIASAT 1 PREMIERES THE 5 BRIDES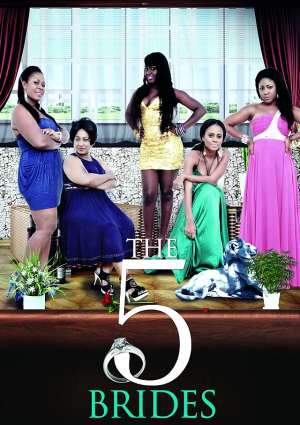 Viasat 1, Ghana's leading entertainment television station will on Monday July 2, 2012, premiere the latest addition to our locally-produced programmes.
The introduction of The 5 Brides series emphasises Viasat 1's determination to collaborate with the local production houses to bring our viewers the best of local content. Easy access to globalised television content is fast turning the Ghanaian into 'consumers' of foreign culture, which is mildly eroding the Ghanaian way of living.
Based on research and by popular request from our viewers, Viasat 1 has chalked very good ratings since we began airing high-standard/ quality series and reality shows
Produced by Venus Films in conjunction with Viasat 1 Television, The 5 Brides tells the story of five young married women, and the unique problems that characterise their marriage lives. Their lives revolve around the joys and angers of love, betrayal, deceit and what goes on in a typical Ghanaian marriage or love setting. The story also touches on controversies, innocence and issues relating to parenting.
We decided to partner Venus productions to come up with this fantastic work to get Ghanaians to relate more to what they see on Viasat 1.
Chief Executive Officer of Viasat 1, Charlotte Gustavsson, is optimistic about The 5 Brides. "Viasat 1 Television has a will to reach our viewers with local content of international and global quality through our daily slots of African movies and television series. "With the introduction of The 5 Brides, we believe our viewers will be entertained and educated at the same time. To pursue this, Viasat 1 has unveiled a number of programmes to strengthen our local content. We have secured the rights to programmes such as 'Desperation', 'Home Sweet Home', 'Illusions' and 'Living with Trisha', all of which currently air between Mondays and Wednesday from 8pm and 9pm, a time when our core viewers are relaxed behind their TV screens," she explained.
The actors are a blend of young, contemporary and fresh movie stars including Paulina Oduro, Chantelle Asante, Regina Nelson, Kalsoume Sinare, Julia Clement and Princess Shyngle; with Kwabena Danso and Kafui Danku also featuring.
The 5 Brides will premiere on Monday 2nd July at 8pm and will show exclusively on Viasat 1 every Monday at the same time. We believe that together, we can make The 5 Brides the most successful locally produced television series through Viasat 1, Your No. 1 Entertainer.