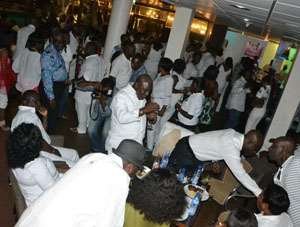 The holiday was an obvious reason for the surge in the number of guests; however the Tulip Mirror Ball on its own keeps attracting the mature fun seeker who wants to party in luxury.
Out-doing last month's celebration, the 'White Nite' theme out challenged its predecessor in April and the sea of white garments added to the Branche Lounge's cool ambience.
There is no doubt that you can count on this venue to 'outweigh' any contender as far as the bout for accolade of top quality entertainment in GH is concerned.   'It's simply a spectacle to behold once you descend the stairs from the red carpet and realise that you are indeed in the VIP den of Accra.  You will most probably love it at first sight', said Edwin Baffour of Drum & Gong.
Mr. and Mrs. Paa Genfi led the way with the style as they coasted in for 'Best dressed couple' while Doreen and Nigel won the best dressed lady and gentleman respectively.
This month's winners were treated to a cozy accommodation package as well as scrumptious meals by the Golden Tulip Hotel.
A selection of lady connoisseurs also received their bottles of Bailey's Irish Cream which they won from a promotion on the interactive face book group page earlier in May.  Nothing looks more VIP than a well dressed lady swirling some Bailey's on a few rocks of ice.
DJ Blow who sported an all white linen outfit tailored by Nallem clothing was in top form rotating the turn tables as he delivered another great ride through the 70s, 80s and 90s with those classic cuts.  The legends of yesterday, today and tomorrow haunted the speakers as the dance floor was ruled by the brave and agile.  Donna Summer, arguably the Queen of the Disco era, was remembered in a rhythm salute from the General as guests struggled to recognize which era it really was.  The Mirror Balls, an ever present piece of our history as a species, was constantly on spin mode, leaving behind a trail of lights on the dance floor.
Next month's event, which divinely falls on Friday June 29 th ,the Republic Day weekend, will see a return to the 'Black and Gold' theme that set records at the Branche lounge last November.