16 March 2012
|
General News
And The Winner Is....Stone!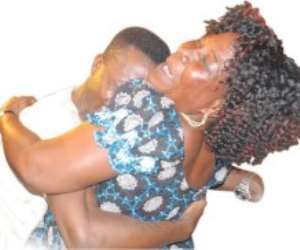 It was just so great and amazing when the Kumasi boy Stone, the only male sandwiched between five ladies emerged winner of Tv3's Mentor last Sunday at the National Theatre and finally walked away with the Hyundai I 10, Ghc 7000, a recording contract and of course the enviable title, Winner of Mentor VI. Then came Ann, Rhoda Xta, who were adjudged second, third and fourth respectively.
In an interview with Stone, he said when he was finally pronounced winner of Mentor, he was astounded because throughout the competition, he only performed for performing sake and never imagined he could win.
My parents didn't also expect I could win but they always prayed and when their prayers were finally answered, my mum broke down into tears which I couldn't help but to join her but all in all, I am so much elated and grateful to God.
Asked if it was challenging being in a competition like Mentor and he confessed it wasn't easy especially when he was left alone in the midst of five girls but it was fun though. The graphic designer added that he now wants to concentrate solely on music and leave the designing for a while but once he is out with a debut album, he'll combine both.
''I have the talent of writing songs and you won't believe I have over fifteen written down which I'll start recording and get them released soon, I will not only do a type of music because I am a circular artiste'' He said.
NaCy set the pace with a performance after which the contestants begun performing and he was good.Rhoda started the competition with Dadadida by Rex Omar and comments about her from judges were quite good.
Ann fantastically handled Kotosa by Wutah. If really cheers and roaring could make one win, I'm dead sure Xta would win because she had most of those anytime she performed especially when she first appeared on stage to do Wala boloo by Soul Winners and indeed handled it well.
Stone followed with Tuobodom by music duo Nkasei and according to the judges, he was fabulous. From the judges, Lami decided to kill the already lit fire by the previous contestants with Amandzeba's Kpanlogo Yede but Amandzeba came out to say his song was a difficult one and that Lami did well.
Rama ended the first section of the competition by doing Lee Duodu's song, Akwankwa and was evicted with Lami leaving the four to battle out.
On their faces, Rama looked so disappointed and therefore was seen with teary eyes, Lami on the other hand felt ok because according to her, she was almost evicted the few weeks back and wasn't surprised to be evicted on the last day.
During the second slice of the competition, it was quite relieving for contestants because the judges didn't have to comment. Xta did splendid with Angelique Kidjo's Wombolombo, so passionately, Rhoda did More Than Words by West Life, and Stone in a keen manner also did Lucky Dube's Usizi and Ann, Zoblazo by Meiway.
Subsequently, they had to perform with their protégés who in a way asked the audience to vote for whoever they mentored. Kwabena Kwabena and Xta gave their hearts to each other after performing Fa Wakoma Mame by Rex Omar.
NaCy did Dr. Paa Bobo's Asobrokyie and Sarkodie's You Go Kill Me with Stone and Ann when both men tried to win the heart of Ann and finally NaCy won. Rex Omar and Rhoda also did great in their performance.Even after all the exciting performances from the contestants, the mentors Kwabena Kwabena, NaCy, Rex Omar and Amandzeba did their own thing by singing a couple of their songs.
The audience seemed not fulfilled enough until the music trio,4x4 came on stage with their Waist and Power and Yese Yesee and of course people did their versions of the azonto dance and finally when TV3 had to give the car to Stone, appeared Guru with Lapaz Toyota.