Kate Winslet and ITV1's Downton Abbey win Emmy awards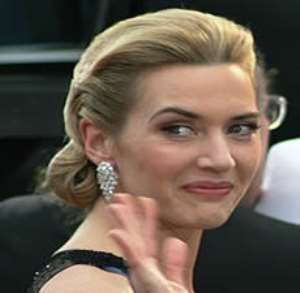 Kate Winslet
ITV1 drama Downton Abbey has won four prizes and Kate Winslet the best actress in a mini-series honour at the annual Emmy Awards in Los Angeles.
Winslet won the Emmy for her role in Mildred Pierce, a drama about a woman who bakes her way out of poverty.
Downton Abbey's gongs included best mini-series and best supporting actress for Dame Maggie Smith.
A taped comedy routine by Alec Baldwin was cut as it contained a joke about the News Corp phone-hacking scandal.
News Corp owns Fox, which is broadcasting the awards. Fox called the joke inappropriate, the Associated Press reported.
Accepting the award, Winslet said she wanted to share the gong with her mother.
"It doesn't matter how old you are or what you do in your life, you never stop needing your mum and I will never stop needing mine, so thanks mum, thank you so much," she said.
Downton Abbey's writer, Julian Fellowes, was honoured for outstanding writing in a mini-series, movie or dramatic special.
Accepting his award, Fellowes said: "When we were in the hotel a bit earlier, my wife said to me, 'I think we should just relax and enjoy the evening, because I don't think we're going to win'. Well, we're going to enjoy the evening now."
He added: "And at the risk of sounding grandiloquent, I would like to thank you, the American industry. Ten years ago you kick-started my second career with an Oscar, tonight you have nurtured it, I am very grateful, thank you."
Brian Percival also scooped an award for directing the hit period drama, which celebrated its successes on the same weekend as the second series of the show began.
Luther actor Idris Elba lost out to Barry Pepper of The Kennedys for lead actor in a mini-series or movie.
Martin Scorsese was named best director for a drama series for his pilot episode of Prohibition-era drama Boardwalk Empire, which dominated last week's arts and crafts Emmys, taking home seven prizes including outstanding cinematography.
The HBO programme was pipped by advertising drama Mad Men for the title of best drama series, its fourth successive Emmy.
Other nominees in the category were The Good Wife, Dexter, Friday Night Lights and Game Of Thrones.
In HBO's Mildred Pierce, Winslet, 36, plays a divorced single mother who decides to open a restaurant business during 1930s Depression-era California.
The role was famously played by Joan Crawford in a 1945 film noir.
Winslet beat Elizabeth McGovern, who plays the Countess of Grantham in ITV1's Downton Abbey, in the category of best actress in a mini-series.
Jean Marsh was also nominated in this category for her portrayal of parlour maid Rose Buck in the BBC's Upstairs, Downstairs.
Marsh, who co-created the series, played the same part more than 40 years ago and was nominated for an Emmy in 1974, 75 and 76.
House star Hugh Laurie lost out to Kyle Chandler of Friday Night Lights in the lead actor in a drama series category.
The awards were hosted by Glee's Jane Lynch, herself shortlisted for best supporting actress in a comedy series.
Goodie bags
Comedy programmes took the early Emmys, with Melissa McCarthy taking the best actress in a comedy series and Jim Parsons of Big Bang Theory being honoured best actor in a comedy.
Modern Family won four awards while The Daily Show With Jon Stewart won Emmys for best writing and best variety, music or comedy series.
Julianna Margulies won the Emmy for best dramatic actress for her role in The Good Wife while Kyle Chandler won best dramatic actor for playing a football coach in Friday Night Lights.
Presenters at the ceremony included movie star Zooey Deschanel and comedienne Amy Poehler.
At Saturday's run-through, Poehler jokingly presented her Emmy to Barack Obama, "for this rehearsal only."
When producers asked her to practice accepting the award, in case the recipient was absent, she playfully admonished: "[He] thought he was too special to come tonight. Bad move."
Meanwhile, stars attending the ceremony were being lavished with the customary gift bags.
Despite the economic downturn, freebies were in great abundance with notebook computers, designer sunglasses, handbags and even high-end baby strollers on offer.
But these were all distractions from the night's main prize - a golden Emmy statuette.
Shows with multiple nominations this year included Tina Fey's comedy series 30 Rock, and legal drama The Good Wife, both of which had six nods.
So, too, had Too Big To Fail, a dramatisation of the 2008 financial meltdown by LA Confidential director Curtis Hanson.