Kwabena Kwabena to act in Adam's Apples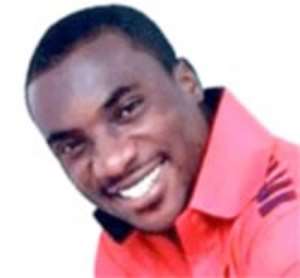 Kwabena Kwabena

Singer Kwabena Kwabena is keeping his fingers tightly crossed as he waits for something he sees as valuable for his overall evolution as a creative artiste: a call from film director Shirley Frimpong-Manso to feature in one of the 10-chapter Adam's Apples movie being produced by her Sparrow Productions company.
Adam's Apples is the multi-prong story of a widow; Mrs Adams, her three beautiful daughters and how they all juggle with their lives in contemporary settings. Three chapters of the movie have already been released and the director has promised Kwabena Kwabena a role in one of the upcoming chapters.
"Acting has been my dream since infancy, but I haven't had the chance yet to express it the way I would wish," a delighted Kwabena Kwabena, who had a singing part in Sparrow Productions' Perfect Picture movie, said in a chat. "Shirley is one of the best film directors in this country at the moment so starring in her movie will be a great honour."
Born George Kwabena Adu, the award-winning Kwabena Kwabena is one of the best known singers around. He has three albums to his credit: Aso, Debi and Bibini. A new one, Begye Me, is due to be released soon.
Though he read Construction Technology at Accra Polytechnic in 1998, Kwabena Kwabena prefers music to what he studied at school. "I want to sing and touch people's hearts through my music," he said.
His view on the Ghanaian movie business is that it is not doing badly and there is a lot of room for improvement. "I know Ghanaians are now patronizing a lot of made in Ghana movies and that is something to be proud about, but we can still improve on it and I know my wife is not going to worry about me playing such a part."

Shirley Frimpong confirmed to Showbiz that she would use Kwabena Kwabena in one of the chapters of Adam's Apples.
"I believe he suits the kind of role I want to give him. I do not think it would be something too difficult for him to handle.
"Kwabena Kwabena is a talented person and I do not think I am going to have any regrets using him in my movie," Shirley added.

Another singer, Afya, makes a cameo appearance and de1ivers a heart-warming rendition of Sexy, Sassy, Wahala, the title track of Adams Apple 3.