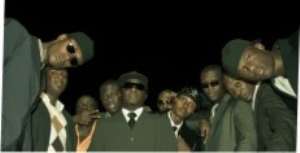 After months of studio work, the Skillions New Generation Mixtape is finally ready for release. The mixtape, made up the newest recruits such as Lil Shaker, Killmatic, Gemini, and JoeyB, off the Skillion Record Label, features Jayso, Sarkodie, Jane, Tiffany and a few others.
The mixtape showcases the next crop of hit makers, gaming up to take over the music industry. Artistes like Gemini, Lil Shaker, and Killmatic, have already tasted the sweet feel of popularity and airtime play. Gemini, one of the fastest Gh rap artistes has a few mixtape singles such as a remix of Akon's 'Never Forget You'. Lil Shaker and Killmatic, apart from their hit single FACEBOOK GIRL, and EYE RED, which features Gh's fastest rapper Sarkodie, which both happens to be on the mixtape, have to their credit, countless remixed hiphop and RnB tunes in their regular broken English type of flow.
Though JoeyB, Grafik, Padlock, Noble, and the rest may be new to a lot of people, they are a bunch Gh rap should be looking out for. The twenty track mixtape album is something the ears can't miss and money would not hesitate to buy. It is an improvement of the first Skillions Demo Tape, a mixtape which had all the founding members of the Skillions such as Jayso, EL and J.Town, registering tracks on it.
The mixtape's release date is suppose to be a surprise to the public, but is rest assured to be released between now and Friday the 13th of November 2009. It will sell for just GHC 2.
Originating at www.pinnaclegh.com