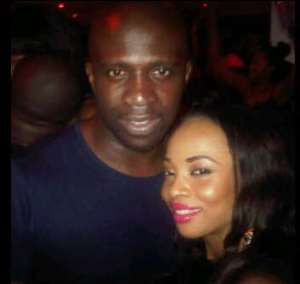 What started as a rumour in January 2012 has finally become reality as on-air personality Toke Makinwa is engaged and is set to wed Island Big Boy Maje Ayida.
The lovebirds got engaged on Thursday 12th April 2012 and have picked November/December date for the wedding and engagement ceremony.
Toke who anchors the Early Morning Drive on Rhythm 93.7 fm confirmed her engagement last week and gladly said the best thing to have happened to her is finally settling with the man who has in the last 8 years captured her heart.
Maje,who is the son of onetime Secretary to the Government of the Federation and Super Perm Sec Allison Ayida,we learnt,has broken the news of his wedding plans to close friends like Ladi Balogun,Laolu Saraki,etc and over the weekend had a private party to celebrate the beginning of his life with the woman he loves dearly.
Maje and Toke met 8 years ago at a party through Sola Ojora and became friends. She was a student then at University of Lagos while he was a young man trying to start a new life after school.
Few weeks later, they started dating but not long after they broke up. Their separation didn't last as they got back together before anyone could say hey!
Over the years, they have had several break-ups which led to several make-ups till Maje finally sealed it by proposing to her.
Sources disclosed that the duo had gone out for dinner and later retired to Maje's apartment.
On entering the room, he brought out a ring, knelt down and asked her to marry him.
With tears rolling down her eyes,Toke accepted the proposal.
Right now, we can authoritatively tell you that they have started planning big for their wedding as the couple are expected to travel out of the country soon to shop for wedding accessories needed for the ceremony.
Toke is said to have informed her bridal train team while Maje has also hinted his friends to start preparing and soon as he gets a date from Toke's family,he will give proper details of the wedding.
Toke confirmed that the wedding will take place in December 2012.
Toke is an on-air personality with high number followers on her show, Early Morning Drive on Rhythm FM.
She is also a TV personality and one of the presenters of 3 Live chicks.
Maje is the CEO Of Edenlifestyle Health Fitness in Victoria Island, Lagos.